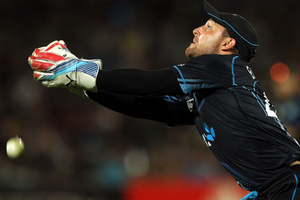 New Zealand squandered first dibs on the best batting block in the country today; England weren't about to follow suit and so the ODI series goes to a decider at Eden Park on Saturday.
Chasing an insufficient 269, England got the job done for the loss of two wickets with 14 balls to spare.
Once England's openers Alastair Cook and Ian Bell got into their work, followed by half centuries from Jonathan Trott and the mightily impressive Joe Root, the tourists were always on track to draw level in the ANZ international series.
However the most significant event of the day, to home eyes anyway, happened in the first half of the match.
It's been a while since a New Zealand partnership has been so loaded with symbolism as that which underpinned their innings tonight.
Captain Brendon McCullum and the man he replaced, Ross Taylor, shared a rollicking 100-run stand in just 53 balls for the fifth wicket.
McCullum's 74 from 36 deliveries did the bulk of the damage, but Taylor stayed on to complete an emotional return to form with his seventh ODI ton. Their good work was badly let down as the last six wickets fell for just 26 runs in 25 balls.
Considering all the assumptions that things can't possibly be good between Taylor and McCullum after the shambolic handling of the captaincy change - a point both have repeatedly denied - their rapport was under some scrutiny.
They pushed the singles hard, chivvied ones into twos, encouraged each other and, once he had his eye in, McCullum simply took off.
He clobbered four sixes to go with nine boundaries. His most remarkable shot, a six over long on off spin bowler Graeme Swann, was completed as he slipped over.
Going into the final 10 overs, New Zealand were 166 for four. The next three overs produced 58 as McCullum became a blur of hitting.
He was comfortably on course to eclipse New Zealand's fastest ODI 100 - 67 balls by Craig McMillan against Australia in Hamilton in 2007 - when he holed out to long on, departing to a standing ovation.
Taylor hurried across to give him a personal 'well done mate' on his way off.
It continued a run of rattling form for McCullum, who has made 253 runs off 160 balls in five limited-overs innings against England in the last 12 days.
By contrast, Taylor has been slow to get his international career going again after taking a break after losing the leadership.
Today Taylor took 10 balls to get off the mark, steadily worked himself into some touch, but having got to 50 in 81 balls slammed Stuart Broad into the crowd at mid wicket.
The second 50 took 35 balls, followed by a raising of the arms and salute to a rapturous crowd.
He was out moments later - 117 balls, nine fours and that six, over 181 minutes - after an innings full of importance, not only personally but with the first test in Dunedin in mind.
England's new ball men, Jimmy Anderson and Steve Finn, were bang on the job early on, Anderson eventually rewarded with five wickets.
The internationals have gone turnabout win-loss through the first five games. Solely on that basis, it should be New Zealand's turn on Saturday.
Scoreboard for the ODI played in Napier today:
New Zealand
B.J. Watling c Cook b Anderson 7
H. Rutherford c Cook b Anderson 11
K. Williamson b Woakes 33
R. Taylor c Buttler b Anderson 100
G. Elliott c sub (Bairstow) b Finn 23
B. McCullum c Woakes b Broad 74
J. Franklin c Root b Woakes 1
N. McCullum c Buttler b Anderson 7
T. Southee b Woakes 2
K. Mills not out 3
T. Boult c Woakes b Anderson 1
Extras (3lb, 3w, 1nb) 7
Total (all out) 269
Overs: 48.5.
Fall: 12 (Watling), 19 (Rutherford), 91
(Williamson), 143 (Elliott), 243 (B.
McCullum), 245 (Franklin), 254 (N.
McCullum), 261 (Southee), 267 (Taylor),
269 (Boult).
Bowling: J. Anderson 9.5-2-34-5, S.
Finn 10-1-33-1 (1w), C. Woakes 10-0-68-3,
S. Broad 9-0-69-1 (2w, 1nb), G. Swann
10-0-62-0.
England
A. Cook c & b Southee 78
I. Bell c Rutherford b Williamson 44
J. Trott not out 65
J. Root not out 79
Extras (1lb, 3w) 4
Total 270
Overs: 47.4.
Fall: 89 (Bell), 149 (Cook).
Bowling: K. Mills 6.4-0-43-0, T. Boult
9-1-55-0 (2w), J. Franklin 5-0-32-0, T.
Southee 9-0-54-1, N. McCullum
10-0-46-0, K. Williamson 8-0-39-1 (1w).
England won by 8 wickets. The series
is even at 1 all.