Learning how to relax will be the biggest challenge on the agenda for newly retired international cricketer.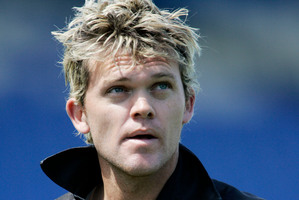 Less than 24 hours into his retirement, Lou Vincent is already finding it hard to sit still.
The livewire cricketer announced his retirement from the game via Twitter on Monday and said he had no immediate plans other than trying to relax.
"I'm just going to perfect the art of doing nothing," he said yesterday.
"I've never done it before and I'm on day one and what's the time? 12.30pm and I'm starting to feel bored. I don't know how long I can do this for but I need to. I need to be bored, I need to stop."
Vincent's career was anything but boring and after making his first-class debut for Auckland in the 1997-1998 season he experienced most of the highs and lows that the game has to offer.
He made three test centuries, won trophies and entertained stadiums full of people but he has also endured some dark days, including his battle with depression, which became public knowledge in 2008.
The 34-year-old said his personal struggles made him the man he is today.
"The journey I've been on, it's taught me a lot about myself and once you get that understanding about how you tick as a human being you start to live by those rules.
"Five years ago I thought that was the end of the world. So I'm madly in love and I've got the most gorgeous woman in the world I'm going to be with soon and I've got two gorgeous little girls from a marriage that didn't work out, so I've everything a man needs."
Although he wants to relax, Vincent has a project in mind for the future. He would not reveal details but said it would be about "making the world a better place".
"I get such pride and passion giving to the community and that's something I haven't done much of this summer so I want to give back."
One thing that doesn't appear to be on the agenda is cricket.
He said that after sharing a few drinks with his flatmate following his retirement announcement he was presented with a makeshift contract to commit to a club game this weekend.
"I woke up this morning just trying to recap and I saw this contract and I thought, 'There's no way, mate. This wouldn't hold up in a court.'
"The last thing I think about now is holding a cricket bat."
Vincent's international career left you wondering how good he could have been but with 23 test appearances and an average of 34.15, 102 one-day caps and nine T20 international outings he doesn't look back with regret. He scored 104 on test debut at the Waca in 2001 against a red-hot Australian attack, while his 224 against Sri Lanka at the Basin Reserve in 2005 was one of the finer test knocks by a New Zealander.
"I'm not a statistician," he said. "I'm not one of those guys who needed to play 100 test matches. I represented my country and that's something that as a kid I never thought could have happened and it did happen.
"Whether I've got 100 test centuries or one test century, it doesn't change anything for me. I've done a little reflecting on my cricketing career and I just look at it with nothing but positives."
Despite being contracted to Auckland for the rest of the season, Vincent, who recently spent a turbulent few weeks in the Bangladesh Premier League, said he knew the time was right to give the game away.
"You hear other players talk about it and I can't give 100 per cent and it kills you as a player when youlook up and you can't give 100 per cent.
"It means you've got to listen to what your heart says and I don't want to let the boys down by pretending to get through the season and help them out because we get contracted to. I don't live that way. I live life with my heart on the sleeve and I don't want to let them down so it's the perfect time."
Vincent's contract with Auckland will be taken up by another player for the remainder of the summer.
An announcement on his replacement will be made this week.
As for how he would like to be remembered, Vincent said: "Worth watching because you're never sure what you're going to get."
- APNZ