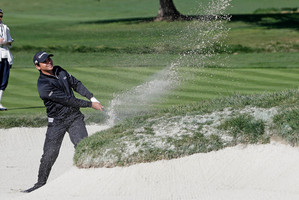 Jason Day may have mellowed as a new dad but he still can't guarantee he won't be a frustrating opponent in this week's World Golf Championships Match Play in Arizona.
The 25-year-old gained some headlines as a relative newcomer at the event in 2011 when he admitted playing mind games with English opponent Paul Casey in their second round battle.
Casey was the runner-up the previous two years but was rattled by Day's insistence on rarely conceding a putt.
When Day forced a tiddler putt on the 13th hole, Casey was clearly upset.
"It was only about a foot and a half. I knew he was going to hole it, but it's not about that hole. It's about future holes coming in. If I can make him a little angry, get him out of his game plan and force him to make silly decisions out there, that's part of the mind games you play," said Day at the time.
"You've got to have a bit of prick in you. At the end of the day, you're all mates, but when you're playing against the guy, you want to beat him as quick as possible."
Come 2013 and Day is an established player on the WGC and majors scene. And while he admits being a little more mellow these days he can't guarantee staying that way as he lines up against former Masters champion Zach Johnson in the first round.
"It's going to be a very tough match ... Zach Johnson is such a calm guy I can't see him getting annoyed so I'm going to need to try to jump to an early lead and hold him off."AAP