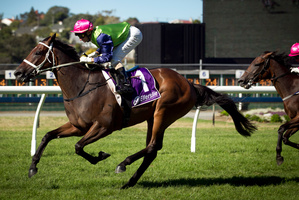 Punters are starting to love Sangster.
Trainer Trent Busuttin describes him as a "dirty old gelding that needs to be smashed".
That quote does not come from dislike - more from lack of fitness.
Busuttin says Sangster is a horse that has to be stayed on top of for fitness.
"Some were surprised we ran him in this race," he said after Sangster's dominating Cardinal Logistics Avondale Cup victory yesterday.
"But he has to run two miles in the Auckland Cup and it's 18 days away."
Busuttin said his wife and training partner Natalie Young declared Sangster a fitter horse after he'd galloped on Friday than when he'd worked previously.
"You just have to smash him in training. He's a dirty old gelding that needs to be smashed. I may even run him in the Nathans on the first day of the meeting to take the edge off him.
I may not run him, but I'll be nominating him."
Busuttin felt Sangster raced a touch too keen early yesterday for a horse going into a 3200m race, but winning rider Opie Bosson, never one to stress, was unconcerned.
"He'll be fine" - which is about as worried as Bosson can get.
One lesson Busuttin says he's learned is not to give Bosson riding instructions. "I told him how to ride one for me the other day and I managed to get it beaten into second.
"Opie gave me a serve when he came in. He said: 'If you'd left it to me we'd have won'.
"He was right."
Sangster carried 59kg yesterday and made it look like 49kg.
He drops to a relative featherweight 54.5kg for the Auckland Cup and the TAB's quote tomorrow morning will be interesting.
The TAB dropped his odds to $3.50 after his Darci Brahma International win at Te Rapa and that now looks generous.
"I won't be taking the odds, whatever they are," said Busuttin.
"I'll get him beaten if I back him."
Savanah Rush was brave in running on strongly for second and Chaparrone powered home down the outside into third, followed by Princess Kyoto.
Well-fancied My Scotsgrey was unable to get in closer than three deep by the 1200m.
Rider James McDonald sent him around the field to sit outside the leader. The grey led into the home straight, but could not keep going.
The ladder is about to get steeper for Petty Cury, but don't bet against her coping.
The classy mare ran out of "easy" options winning yesterday's $15,000 Portofino Restaurants 1200.
It was three wins straight for Petty Cury and she had to lump clear topweight of 58.5kg to achieve what was an easy victory.
Trainer Don Sellwood said he was tossing up between running the mare in the Darley at the Ellerslie carnival or the Westbury Classic.
Petty Cury looks and races much stronger than last season as a 3-year-old. The top grades should prove well within her scope.
Silent Achiever might have been beaten by a nose yesterday, but it was as good as a win.
Last year's Derby winner carried her full 61kg and could not have been more impressive coming from last under James McDonald.
She only just failed to pull back Maximum Height, scoring his fifth straight win, something rarely seen these days.
"What a run," said McDonald. "She was starting to get tired, but was entitled to."
Trainer Roger James was pleased with Silent Achiever when she cooled off.
"Provided I'm happy with her as the week goes on I'll look to run her in the Chipping Norton at Warwick Farm in three weeks."