Trainer had doubts but Allan Peard was confident Valbuena could win Guineas.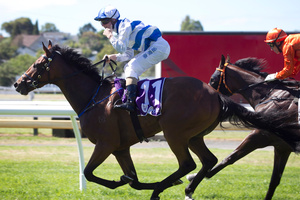 The biggest smile at Ellerslie after yesterday's surprise $100,000 The Falls Restaurant Avondale Guineas victory by outsider Valbuena was carried by Allan Peard.
The Bruce Wallace stable foreman/manager played a big hand in the victory for owners Peter and Philip Vela.
In fact, Wallace attributed the entire win to his employee.
"Al always said this horse would stay, but I continually thought he was too lightly framed to make a stayer."
Wallace attributed even more to Peard. "We've been flat out at home with the construction company building a 14,000sq m retail outlet in South Auckland.
"All the staff has had to step up and Al has been marvellous."
So when will Allan Peard's name appear in a training partnership in the racebook?
"When we're allowed to stop talking about Mufhasa," said Wallace.
"You wouldn't believe the numbers of phone calls I get about Mufhasa."
Valbuena, by Darci Brahma, went through the Karaka sale ring without being bought and the result was the same at the Ready To Run sale.
"He was there for anyone to buy," said Wallace.
Valbuena is a magnificent type, but still looks weak, particularly behind the saddle.
"What a great type he's going to make up into in six months and more," said yesterday's rider, James McDonald. "And, he's one of those horses that will be able to manage a hard track."
Wallace confirmed that Valbuena requires a decent surface to produce his best.
"He went a great race behind Habibi here on Boxing Day, but he didn't like the wet track that day and we nearly scratched him."
The Vela brothers were not on track but Wallace said it rarely took Peter Vela long to call his cellphone after a race.
As a race, the Avondale Guineas threw a fair amount of light on the $750,000 TV3 Derby next month.
The winner has to be a contender, although McDonald said he would like to see the horse miss the classic.
"But I suppose the money's too great to turn down."
Runner-up Castlzeberg stuck on well after leading, suggesting co-trainer Bobby Vance was correct after the Waikato Guineas that the horse would love the Derby's 2400m.
Castlzeberg was run down because the winner enjoyed a lovely rails run. Valbuena was four back on the inside rail to the 600m and was behind the leader on the home turn as those directly in front peeled to make their runs.
Valbuena had the faster final sprint because he did not have to be used until late. Habibi's unbeaten record was lost in this race, but she lost few friends for the Derby. Her third placing held a lot of merit.
"I got shuffled one place further back than I'd planned," said Vinnie Colgan.
"It meant that from the 900m to the 600m she was caught behind runners.
"I had to wait until the home turn before I could peel out, then she ran home quite nicely."
That finishing effort left little doubt Habibi will see out 2400m in the Derby.
"She's subject to a fair bit of improvement," said Colgan. "It's 5 weeks between runs and she looks a little tubby to me."