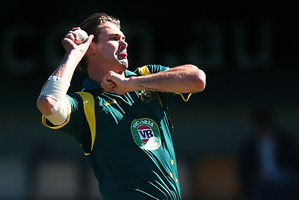 A pay dispute involving the Indian Premier League is threatening to disrupt one of English cricket's biggest years, with two Ashes series and a Champions Trophy on home soil.
The IPL issue is likely to play a key role in negotiations for England players' central contracts which start each October and will be negotiated in the northern summer, probably during the Champions Trophy and the home test series against Australia.
The issue was placed at the top of the agenda once more by Angus Porter, the chief executive of the Professional Cricketers' Association, which deals with the England and Wales Cricket Board on the central contracts.
Anticipating a kerfuffle, Porter suggested they were substantially underpaid because of their inability to take part in the IPL and other T20 competitions.
England captain Alastair Cook said: "That always happens whenever central contracts come up.
I haven't spoken to Angus about what he said. It is important we focus on trying to win a one-day series in New Zealand. Playing for England is such a huge honour it should always remain that.
"Clearly, with policies and rotation, people are missing games. We have to look at that for longevity but we should remember ... we're very lucky to be doing what we're doing."
The IPL remains the most lucrative of the T20 tournaments. Glenn Maxwell, the Australia all-rounder, has landed a US$1 million ($1.18 million) contract for six weeks' work with Mumbai Indians. His compatriot Kane Richardson is being paid $700,000 by Pune Warrriors.
Centrally contracted England players, of whom there are nine in all, can expect around £250,000 ($460,000) a year.
England's players are not prohibited from taking part but their right to appear is curtailed because they must return in time for the first home test series of the summer. In turn, this makes the IPL clubs deeply reluctant to sign Englishmen.
This year, for instance, the wicketkeeper Matt Prior was overlooked, while others did not bother to put their names forward. The 2013 IPL continues until May 26 but any England player taking part would have to be back by May 5 to prepare for the first test against New Zealand, which begins on May 17.
Cook said: "You have a very short career and you have every right to try and earn as much money as possible."
When New Zealand begin their England tour at the start of May, they could be missing key team members who will be on IPL duty.
- Independent