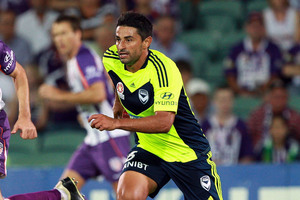 It seems a major coup, but the Phoenix signing of Carlos Hernandez might not be the panacea everyone expects.
On the surface, the recruitment of the Costa Rican is a great piece of business, maybe the best the Phoenix have conducted in their seven-year history.
However, it all depends on which Carlos Hernandez shows up in Wellington. When the man known as 'El Zorro' dons the yellow and black, will we see Hernandez Mark I - the player who lit up the league in his first seasons, winning the Johnny Warren medal (for player of the year) in 2010 and twice grabbing the golden boot?
Or will we see Hernandez Mark II, who struggled to make his mark in his final season in Melbourne and left after failing to agree terms for a new contract?
There were extenuating circumstances - Victory were a divided team, churned through two coaches and star import Harry Kewell failed to shine - but Hernandez didn't have the same influence of earlier seasons.
Historically, Latin American players have rarely thrived at the Phoenix. While Brazilians Daniel and Felipe had their moments, the Latin let-down has included Cleberson, George, Adrian Carceres, 'Toto' Hernandez and Diego. Some had off-field issues but sometimes the issues related to the style and tactics.
"They're not a team that keeps the ball," said Diego Walsh upon his departure in 2011. "For players who grew up in South America, we play in a certain way. [In Wellington] it is a physical style of play. When you look at [the way] Phoenix play, we just run our asses off. It's a very fit team. Some of the South American players aren't used to that. Maybe that's a reason."
Of course Hernandez won't be expected - or required - to be a box-to-box midfielder at the Phoenix. He has been signed to weave his magic in the final third of the pitch and provide some composure in possession in all other areas; men like Vinnie Lia and Manny Muscat can cover, track and tackle. Hernandez will be 31 by the time he arrives at the Phoenix in June. It shouldn't be a hindrance - Paul Ifill was 32 when he signed a two-year contract extension in late 2011 and a certain Alessandro Del Piero is doing the business at 38 for Sydney. But it is a factor and will require the Phoenix to safeguard possession more than they have this season.
By all accounts Hernandez was a great influence on and off the field in Melbourne. He will provide vital creative support for Ifill and should be a source of inspiration for young guns like Louis Fenton and Tyler Boyd. But while he will come with massive expectations, he won't be able to singlehandedly solve the Phoenix's attacking issues.
It would be a mistake to think he will arrive and be able to do everything; he will him, some of which will hopefully be unveiled over the next few months.