A CEO seeking success turns to a Kiwi who made a big impression in his first MLS stint, writes Michael Burgess.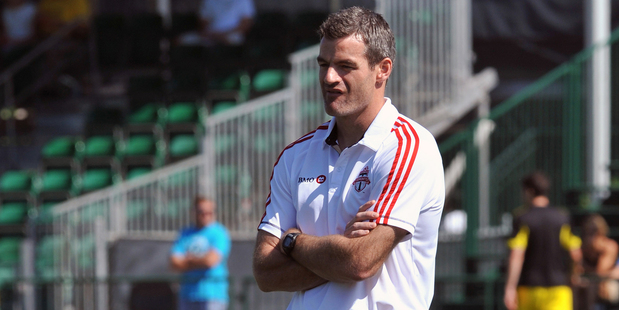 The man who brought Ryan Nelsen to Toronto FC says his managerial potential was obvious more than a decade ago and he has the potential to coach "at the highest levels in the sport".
Kevin Payne, who took over as Toronto CEO in November, was the architect of the shock swoop for Nelsen, signed while still a Queens Park Rangers player and despite his having no managerial experience.
Payne knows Nelsen well, as he was in charge at DC United when Nelsen arrived in Washington in 2001; the fresh-faced Cantabrian made an immediate impression.
"He was a recent college graduate but carried himself like a man," Payne told the Herald on Sunday. "He didn't act like a 23-year-old and commanded immediate respect. Almost instantly, he became a leader in the dressing room."
Payne says the young New Zealander was interested in the dynamics of the dugout from an early stage.
"Back then, I spent a lot of time talking to him," recalls Payne. "I found him very mature and thoughtful and he expressed an interest in management in those days. Early on, there were qualities that became more and more apparent as I observed him. I stayed in touch while he was in England and it was always on my mind."
Payne also revealed Nelsen volunteered as an assistant coach at George Mason University, an affiliated college with the MLS franchise and spent one to two hours most days coaching there with Fran O'Leary, now Nelsen's No2 at Toronto. For almost four years, Nelsen trained with his MLS side in the mornings before joining the University team in the afternoons.
"I think, at that stage, (he) had a real brain for the game and had an eye on going into coaching when his career ended," said O'Leary at the time of Nelsen's appointment. "So even though (he) was at the front end of (his) playing career, (he was) already looking to the back end and a career in management.
"He has a lot of leadership ability, a real interest in leadership and thinks a lot about the game," says Payne. "It always resonated to me that Ryan would be a great coach. In a way, I believe throughout his career he has always been a coach and he can make it to as high a level as he chooses; in time, it will be up to him what he does but I expect him to be at this club for many years to come."
Despite Payne's optimism, the reaction to Nelsen's appointment has been far from positive among the MLS media, particularly in Canada. Nelsen has a wealth of playing experience but has yet to coach professionally at any level, and doesn't hold any Fifa or UEFA coaching badges - often a prerequisite for a professional manager but not a requirement in the MLS.
"I can see why people would think this is a gamble," says Payne, "and they have the right to think that. But to my mind, it definitely isn't. Ryan has all the right attributes to be successful and anyway I have done this (hired young coaches) successfully before at DC United."
Payne made Piotr Nowak manager of DC United in 2004, a year after the Polish international had hung up his boots. The untried Nowak took DC, then captained by Nelsen, to their first MLS title since 1999. Payne also appointed current DC manager Ben Olsen, a contemporary of the New Zealander who was 33 when he took over, the youngest in the history of the MLS. Meanwhile, Jason Kreis was 34 when he became head coach at Real Salt Lake and just 36 when they took the 2009 title.
"This is a great league to begin as a manager," adds Payne. "In the MLS, you have to do a lot of actual coaching - unlike many of the other leagues like the Premier League. It is more of a teaching league here; there are a lot of great athletes but they don't have the experience and have a lot to learn. Also, all of the teams have the same resources [the MLS has a salary cap of around US$3 million ($3.54 million)] and often it is down to the quality of the coach as to whether you perform or not."
Nelsen's experience as a player with DC United between 2001 and 2005 will hold him in good stead. Though the league has evolved significantly (in 2005, there were 12 teams and four dedicated football stadiums; now there are 19 teams, most with football-specific grounds) the quirks which tripped up many other managers, remain. The huge travel demands, different climates, salary cap, draft system, ownership structure and convoluted play-offs will be second nature to Nelsen.
Toronto have been serial under-achievers, only once going close to the play-offs and churning through seven coaches in six seasons. They finished bottom (19th) last season (5 wins, 8 draws, 21 losses) and 16th in 2011. So, no pressure then?
"There was no general strategy in the past and we are taking a different approach," says Payne. "There is a lot to rebuild and I was looking for a partner - there will be no short cuts. Ryan is very well organised and loves process in developing a team. The players understand what is required and why we are doing what we need to do."
Given Payne's close ties with Nelsen, the club will be patient with the 35-year-old but expect progress. They are one of the best resourced clubs and have a new US$25 million training facility.
Their owners, Toronto Maple Leaf Sports, have deep pockets and the club have an extensive academy programme.
"We need to be competitive," says Payne. "We want to be in the conversation for the play-offs. I expect us to be an extremely hard team to play against and a difficult team to beat."

Football in North America
• Football's first foray into North America was spectacular - with players like Pele, George Best and Franz Beckenbauer playing in front of huge crowds in the 1970s - but short-lived, as the North American Soccer League folded in 1984, 16 years after its inception. The NASL had some of the best team names seen in world sport, including the California Surf, Tulsa Roughnecks, Jacksonville Tea Men, San Diego Jaws, Minnesota Kicks and the San Diego Sockers.
• The 1994 World Cup gave the impetus for the MLS and it kicked off two years later. It started in 1996 with 10 clubs and has since expanded to 19.
• The MLS has evolved into somewhat of a professional breeding ground for New Zealand players, often after a stint at an American university. Some, like Ryan Nelsen and Simon Elliott, go on to bigger and better things while others spend their careers in North America. Dan Keat (LA Galaxy) and Jake Gleeson (Portland Timbers) are two recent All Whites plying their trade in the US.
• Like most American sports, the competition is divided into conferences (Eastern, 10 teams; Western, nine) and there is no promotion-relegation system.
• DC United and LA Galaxy are the most successful MLS clubs, with four titles each. Along with Toronto, who joined the league in 2007, the other Canadian clubs are Montreal Impact (joined in 2012) and the Vancouver Whitecaps (since 2011).
• Apart from David Beckham, other stars to grace the MLS in recent times include Juan Pablo Angel (Chivas USA), Freddie Ljungberg (Seattle), Denilson (Dallas), Thierry Henry (New York), Robbie Keane (LA Galaxy) and Rafa Marquez (New York).