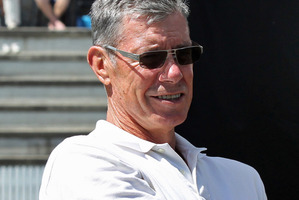 John Buchanan doesn't sound particularly ostracised.
That was the claim made this week by former New Zealand assistant coach - and Buchanan's fellow Australian - Trent Woodhill.
Now assistant coach at New South Wales, Woodhill launched a broadside at aspects of New Zealand Cricket and its handling of the Ross Taylor axing as national captain.
He missed out on replacing John Wright as coach. Mike Hesson, an Otago man, got the job. Woodhill wasn't happy and reckons NZC's director of cricket Buchanan was on thin ice.
"The New Zealanders didn't want a foreigner [as coach]," he told the Sydney Morning Herald. "They had issues with John Buchanan. He was ostracised and still is and the manager, players' association rep and new CEO [David White] all just wanted a Kiwi in there."
Buchanan, who coached Australia to three World Cups and three Ashes series wins from 1999-2007, was appointed high performance overseer in April 2011 by the previous NZC administration.
There have been suggestions recently that all was not rosy between NZC and Buchanan, that high performance progress has not been as rapid as had been hoped, and therefore Buchanan was in the firing line.
Buchanan admitted last night things had taken longer to fall into place than he had wished.
Funding coming from the International Cricket Council and High Performance Sport New Zealand specifically to promote New Zealand's A programme should provide a boost in an area New Zealand desperately wants to develop.
"For me, things have been going a bit slower than what I'd like, that's no secret," Buchanan said. "But I'm encouraged by what I see being able to happen now. I'm happy with what's on the agenda, very happy with our direction and with what we are doing to head in that direction."
Buchanan knows the importance of New Zealand players having more international experience as a step to graduating to the national side. Accelerating the coaching development is also on the agenda.
Buchanan admitted to a firm view that a dose of conflict in discussions is no bad thing.
He recently described his relationship with NZC chief executive as "frosty" at times. Both have jobs to do. Sometimes they don't specifically square up.
"Part of my philosophy is there should always be conflict in teams and organisations," Buchanan said. "That's what enables you to have good debate, good discussion on a broad range of issues. Therefore, I'm not averse to a difference of opinion."
He has a contract until the 2015 World Cup, to be hosted by Australia and New Zealand, and insisted there's no suggestion he will leave before.
"I've not had any discussions with anybody in NZC about any sort of changed role or formal restructure. As far as I am concerned, the board and CEO are very happy with the way things are set up and what I'm doing in the job."
So his standing with NZC is in a good space right now? "I would have thought so."