Young workaholic fullback Piutau is raring to for Auckland against Highlanders after recovering from a foot injury. Meanwhile, rising Chiefs star Nanai-WIllians is building his chances of graduating to an All Blacks role.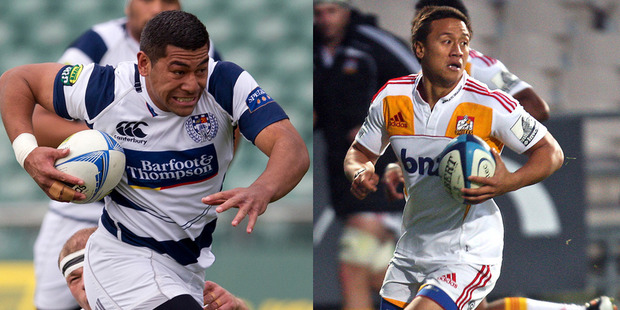 The dancing feet and booming left-foot punt marked Charles Piutau as a rugby excitement machine.
He had potential with a capital P, but as with many young provincial rugby players, it was a case of seeing whether that sporting package suited the professional stage.
We got a glimpse last year when Piutau was grabbed late from the sevens circuit and pitched into several games for the Blues. His skills were lively and the spark he delivered was infectious.
When Auckland coach Wayne Pivac was working at the Pakuranga club he was sure Piutau would make a much wider impact from fullback than he had done as a wing at Wesley College and for the NZ Schools side.
"He just looked so similar to Mils Muliaina as someone who could play fullback or centre," Pivac recalled.
"He had great balance and so much skill. There were work-ons like making better decisions in his game and his punting but he looked such a huge talent.
"He is a sponge when it comes to rugby coaching, he is a delight to work with. He is intelligent, a workaholic, very strong defensively and in time I think will become a very good leader in teams."
The 21-year-old lit up the landscape in his brief excursions for the Blues last year and had many wondering where this talented young man had been hiding. He had been a work in progress in his new fullback role and was being nurtured towards higher honours.
Once seen on the bigger stage there was little doubt Piutau would survive the drastic cull when John Kirwan and his crew began sifting the players they wanted to retain for the Blues.
"I really enjoyed that first taste of the action," Piutau said.
"I had been playing a lot of sevens and felt really fit so I just went out there to try and enjoy what was happening.
"Being asked to play was just awesome and my headspace was all about attacking and having a go like we did at sevens."
That done, Piutau was in for the regular matchplay in the ITM Cup, a competition where he felt he could really express himself.
"It was a smooth transition and I felt pretty comfortable about coping with the standards," he said. "Everything kind of fell into place and it was very exciting.
"My aim was working on cementing a starting position at fullback and to bring much better consistency to my play.
"Then after that I was trying to balance my game with running, kicking and decision-making."
Piutau left a strong impression with his powerful sidestep, booming left foot punt and strong defence. The off-season and Blues skills sessions have been about adding trimmings to his strong foundation.
There is the decision-making, reading play and scanning the field and beefing up a right foot kicking game in his repertoire.
Blues forwards coach Mick Byrne entered the frame, showing Piutau a range of exercises and drills to boost his expertise while Graham Henry chipped him about his positional play on defence and John Kirwan took him through video clips of his attack plays.
It is not overload for Piutau, he revels in the inquisition but has been frustrated at recent trial games because of a damaged foot.
He returns tonight in the final hit out against the Highlanders before the selectors settle on the side to take on the Hurricanes in the opening match.
****
As an aspiring coach, Tim Nanai-Williams knows better than anyone he can't take his eye off the ball this year but another solid season at the Chiefs will open up real opportunities at the next level.
With wing Cory Jane's ruptured knee ligament ruling him out until the end of the year at best, Tamati Ellison's shoulder injury needing another six months to come right, talk of an impending sabbatical for Conrad Smith, and Richard Kahui's exit for Toshiba in Japan, an All Blacks call-up is a distinct possibility for the 24-year-old Nanai-Williams.
A specialist wing or fullback, Nanai-Williams has been told by the Chiefs coaches they would like him to play centre at times this season - a position covered by Ellison, Smith and Kahui.
No wonder Nanai-Williams has been hitting the gym with renewed ferocity.
"There are heaps of opportunities for players and hopefully I can put my hand up as well," he said. "That's always the main goal but first of all I really want to impress my coaches here and do the job here before I start looking at the ABs. Yeah, it is in my mind that there's an opportunity but to be really honest I have to get on the grind here with the Chiefs first and make an impact here with the boys."
At 1.82m and 90kg, Nanai-Williams is not a big man, which he freely admits. However, while he is best known for his pace and elusiveness, Nanai-Williams doesn't lack for strength. As he said, his lower centre of gravity can be quite useful.
"I'm not the biggest person as most people know, so I like to use my pace and my evasiveness but also I like to use my strength as well. I can get lower than other players and I do have some power when I get on a weak shoulder as well. I guess speed and agility are my main things... It's being aggressive as well, especially if I am going to play centre.
"I've been working hard in the gym, especially when the coaches told me they were looking at playing me at centre." It's about power and explosiveness to get me through those bigger boys."
Nanai-Williams will be an extremely important member of the Chiefs back line this year, especially in the absence of his cousin Sonny Bill Williams.
With Kahui on the way out - and with a question mark still over his shoulder - the Chiefs will be looking for a long-term replacement in the midfield and Nanai-Williams appears to be it. Without the offloading genius and power of his relative, Nanai-Williams' enthusiasm and X-factor could be crucial in getting the Chiefs over the gain-line.
Having developed his game at Counties, it's no surprise to hear that Tana Umaga, the former All Blacks captain who has helped take the Pukekohe-based team to the ITM Cup Premiership, is a big role model.
"He's played a big part and not just in my game, but for Counties in general and the region. He goes out of his way to know all the players personally and I reckon that's really good as a coach. He's done a lot for Counties. He's got this aura about him. When he's around the boys and he opens his mouth everyone shuts up because they don't want to miss out on anything."
And that's something Nanai-Williams would love to emulate. He has switched his long-term focus from being a PE teacher to a coach, and in particular helping out children in south Auckland suburbs such as Manurewa.
"I didn't know I was so passionate about it until I started going to schools and helping kids out with their skills."
- Patrick McKendry