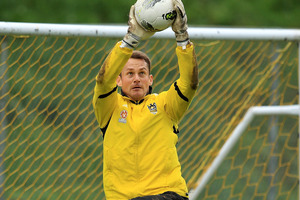 Glen Moss must be about ready to burst.
The effervescent Wellington Phoenix goalkeeper hasn't started an A-League fixture since December 16, 2011 when he tore a muscle in his groin while taking a goal kick for Gold Coast United against Adelaide.
Since then he has spent time recovering from surgery on the adductor muscle, suffered a sports hernia and had to sit behind Mark Paston in the pecking order at the Phoenix after rejoining the Wellington-based side at the start of the season.
But after a string of losses and inconsistent team performances, Paston is a victim of circumstance and despite not being notably out of touch this year he will make way for Moss for the Phoenix's trip to meet the Brisbane Roar across the Tasman on Sunday.
Moss' shot-stopping ability will be helpful to a Phoenix side who could also do with an injection of the hustle he will bring from the back.
"I've obviously been out for a while and it sucks been on the sidelines watching," the 30-year-old said.
"So I'm pretty excited and missed it to be honest.
"The injuries are things you can't really do much about when they happen. So [there's been] a lot of lonely gym sessions and it gives you more time to reflect and make the most of it when you do get back out there."
Moss has played for the Phoenix's reserve side recently and Wellington coach Ricki Herbert said the All White deserved his chance.
"I think Glen will play. He's good, he's fit, he's come back and he just needs an A-League game really."
Paston's benching adds another chapter to the Moss and Paston battle to claim the starting custodian's role for club and country, which has rumbled on at international level for the better part of the past eight years and is on it's second screening at the Phoenix.
Despite being rivals who fight for only one spot, the pair remain great mates.
"Look, it has been [like this] for the past eight or nine years. We are friends first and team-mates as well," Moss said.
"So it's a pleasure to work with Mark and we train really well together and I suppose, like any job, you don't want to rock up and work with someone you don't like, so it's pretty easy to be fair."
Herbert is also likely to reinstate experienced heads Leo Bertos, Tony Lochhead and Ben Sigmund for this weekend's match after they missed the 5-0 drubbing at the hands of the Central Coast Mariners last Thursday through injury and suspension.
That means Ian Hogg and Michael Boxall will drop out this week, while new signing Corey Gameiro, who has joined Wellington on loan from English Premier League outfit Fulham, will also start against Brisbane in a game that looms as a must-win for the Phoenix.
It has been a busy day for the Wellingtonians, who also unveiled the signing of former A-League MVP Carlos Hernandez on a two-year deal this morning (Thurs).
The Costa Rican international will link with Wellington next season and will add some much-needed creativity to their midfield.
"I'm really pleased. We've been working hard on that for a while," Herbert said.
"It was probably out there a long time ago what we thought of Carlos and I think a player like that, that stature, A-League player of the year voted by his peers and I think 40 goals in the 138 games and he's decided to play for the Phoenix, so personally I'm delighted. I think he'll be a huge acquisition to the club and I look forward to seeing him on his arrival.
"He has such a good profile in the league, it's great to have that signing here. There'll be a lot of interest here."
- APNZ