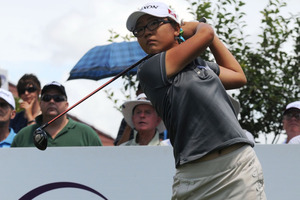 There seems to be no limit to what teen golfer Lydia Ko is capable of.
The 15-year-old from the Gulf Harbour Country Club, who rewrote history last week when she won the New Zealand Women's Open, has carded a remarkable 10-under par 63 at the Royal Canberra Golf Club to claim the round one lead of the Australian Open today.
The record-breaking World No 1 amateur, who was playing alongside her golfing idols World No 1 Yani Tseng and glamour girl Michelle Wie, leads the event by one shot from Colombian Mariajo Uribe with round one of the ALPG, LET and LPGA co-sanctioned event still to be completed.
Mi Hyang Lee (South Korea) and Ayako Uehara (Japan) share third place after shooting rounds of seven-under par 66 on the day of hot scoring in the Australian Open.
Ko was supposed to be emotionally drained after winning her national open and becoming the youngest winner in Ladies European Tour history - a victory she called the most important of her young career.
But she blitzed the Royal Canberra layout to shoot her lowest competitive score beating her eight-under par 64 she shot in the 2012 NSW Open by two shots. The Pinehurst School Student was the talking point once again after round one.
"After bogeying the first hole I was like `Ok what kind of day is this going to be today?' and then I made a couple of birdies in a row and that settled me down,'' said Ko afterwards in a packed press conference.
"It was a lot of fun today and nice to be able to talk to Michelle and Yani more. When I first saw the draw I was really nervous to play with them but I had a lot of fun out there.''
The New Zealand rep got off to a nervous start when she made bogey at the first hole but then let loose. In the next four holes she made consecutive birdies before adding an eagle at the par 5 15th where she holed a pitching wedge from 84m out.
"I didn't see it go in but someone told me that it spun back and went in the hole. That was a pretty cool.''
Ko gave another shot back with a bogey on the 16th but birdied the final two holes of her front nine (the back nine at Royal Canberra) to make the turn in six under par.
Remarkably in her first nine holes Ko had not made a par.
She made her first par on the 10th before adding further birdies on 11, 12, 13 and 14 to get to 10 under par for the tournament.
Ko gave one back on the par 3 8th, her penultimate hole, before birdieing the final hole to get back to 10 under par and the clubhouse lead.
At most other courses Ko would have had a chance to break 60 and become only the second woman in golf to do so after Swede Annika Sorenstam who shot golf's magical number in 2001.
But breaking 60 at Royal Canberra - which has a par of 73 - never really entered Ko's mind.
Tseng is five shots back from Ko but the teenager was in awe of the World No 1 and how she played.
"It was pretty inspiring to play with. She was in fairway bunker and hit a shot to about four feet and I turned to my caddy and said: `That is why she is the World No.1'.''
Wie and Tseng are two of the bigger hitters on the LPGA Tour but Ko didn't let their extra distance get to her.
Ko will begin round two of the four round event alongside her golfing idols again. She will try to make further golfing history and add to her already unprecedented three professional wins as an amateur.
"Tomorrow could go one of the two ways. I could not have a great round or I could follow up. It will be quite hard to back up today's round so hopefully I just play consistently.''