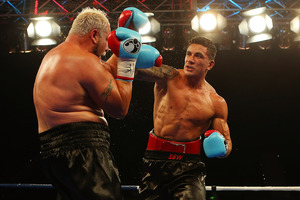 Khoder Nasser has revealed a rematch between Sonny Bill Williams and Francois Botha is a "definite" despite the furore over the recent fight in Brisbane plumbing new depths yesterday.
South African Botha, under scrutiny because of an apparent failed pre-fight drugs test, launched an offensive from Durban telling two New Zealand radio shows he was offered a bribe of A$150,000 ($184,000) to throw Friday night's WBA International heavyweight bout at the Brisbane Entertainment Centre.
The latest claim from Botha came after the fight was shortened from 12 rounds to 10 - Williams winning a unanimous points decision after literally clinging on in the final seconds - and suggestions from the 44-year-old that one of Nasser's relatives was involved in a urine test which, according to the Sydney Morning Herald, contained traces of phentermine, a banned stimulant.
Nasser, Williams' controversial manager, called the bribe claim "fantastic".
"It's pretty blatant that he's got form in trying to come up with anything to discredit the show," Nasser said. "First it was that he thought it was 12 rounds and then that he knew it was 10 rounds and then that my brother took the drugs test and then okay, someone else took the drugs test and then it was tampered with and...now this is the latest fantastic tale.
"And then he has the audacity to keep talking and talking and saying he shouldn't fight David Tua, but him. Does he realise that he has to keep co-operating with the promoter? I'm the one who has to pay, I'm the one who has to talk to him, to pay his hotel bill, give him his per diems, and all that? I just don't know."
However, despite the murky nature of the fight and its aftermath - and damage it could do to Sydney Roosters' recruit Williams' reputation - Nasser yesterday confirmed he would be working on a rematch.
"The first step is [Williams] has got to play for the Roosters and it looks like because of this incredible ... look, he won a unanimous decision but everyone seems to think that this guy Botha was done wrong so maybe that needs to be done emphatically, so we have to look at that avenue also.
"That [rematch] is a definite but this guy is hollering, hollering, hollering. Maybe we need international blood testers, international officials from the WBA which we weren't allowed this time, maybe all these things [to say] okay, now we leave you with absolutely no excuse. And Sonny can do it just as easy as he did it the first time."
A rematch would be lucrative for the Williams camp and Botha. Both men seemed keen for it to happen in Cape Town, where both fighters would have big support. Former All Black Williams was often mobbed by supporters in the city during his rugby career and joked he would have more fans there than Botha.
The problem is what this furore could do to Williams' reputation. The WBA could also be reluctant to sanction the fight.
Francisco Martinez, the WBA Pan Asian representative, refused to comment on the Brisbane fight, saying he didn't want to inflame the situation.
Asked if Williams' reputation could be harmed as the farce continued, Nasser would only say: "People watched the fight and they could see two unadulterated adults going for it. The only difference one was on a substance as well and the one that lost. I have absolutely nothing to gain from saying [falsely] that this is the test. I have been doing this for 13 years, I've never come across someone that's positive and to come across someone who lost that's positive, that's another story. He voluntarily gave his urine, nobody asked him for his urine."
- APNZ