A Sport NZ programme that uses sport as a classroom tool is being trialled in secondary schools, reports Dana Johannsen, and Dylan Cleaver laments the shrinking playing fields of Auckland's primary schools.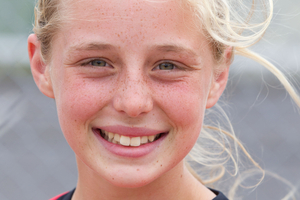 Ben Wilson is sports mad.
The year-9 student at Howick College can be found most days on the sport's field playing soccer, touch or rugby.
So when the opportunity came up for him to be part of the school's sporting pathways programme, the youngster leapt at the chance.
The programme, which is offered to a group of 60 year-9 students, is fuelling Ben's passion further, with the entire curriculum based around sport.
As well as learning disciplines directly related to their sporting aspirations such as methods of training, psychology of sport, using technology to evaluate performance and sports nutrition, there is also a sporting theme in their English and maths classes.
For Ben, the approach brings a whole new appeal to traditional subjects.
"It makes things a lot more interesting and fun, so you get really into it and pay attention more," he says.
With dreams of being a professional tennis player, the sporting pathways programme was a perfect fit for Lizzie Domigan.
She is learning there is a strong crossover from what happens on the sports field to what they learn in the classroom.
"It's not just about the practical stuff, you get to learn how it relates to other subjects as well," the 13-year-old says.
With over 1800 students at the school, Howick College is introducing their Sport in Education initiatives to targeted groups within their school.
But deputy principal Matt Messias said it is not just focused towards high achievers on the sports field.
They've also implemented the principles in one of their year-10 English classes, with sport being used as a hook to get them enthusiastic about the subject again.
"They've been targeted as potentially disengaged students on the back on year nine, and we're aiming to re-engage them by bringing sport into the classroom. They'll follow exactly the same content as every other class, but sport will be the context," says Messias.
A former English premier league referee, Messias taught physical education in the UK before opening his own education consultancy business.
He said the strong links between sport and education has long been recognised in England, and believes Sport NZ's programme can have a huge impact here.
Messias, who moved to New Zealand four years ago, is one of a handful of teachers in Howick College's management group that have a strong sporting background.
The school's principal, Iva Ropati, is a former league international and says he's always been an advocate of pushing sport into the curriculum.
"In New Zealand we've largely polarised sport and education and that is missing a golden opportunity to engage those who would otherwise probably be in your backyard helping themselves to your property," Ropati says.
Sport in EducationWhat is it?
A new initiative led by Sport NZ to improve academic and social outcomes in schools by using sport as a context for learning and student engagement.
"Every day we see the power of sport to change the lives of young people and to help them succeed in other aspects of life. This project will harness that power for schools to get the results they want in their communities" - Peter Miskimmin, Sport NZ chief executive
Trial schools
Aotea College, Wellington
Hillmorton High School, Christchurch
Howick College, Auckland
Kaikorai Valley College, Dunedin
Papakura High School, Auckland
Queen's High School, Dunedin
Tauranga Boys' College, Tauranga
Te Kuiti High School, Te Kuiti