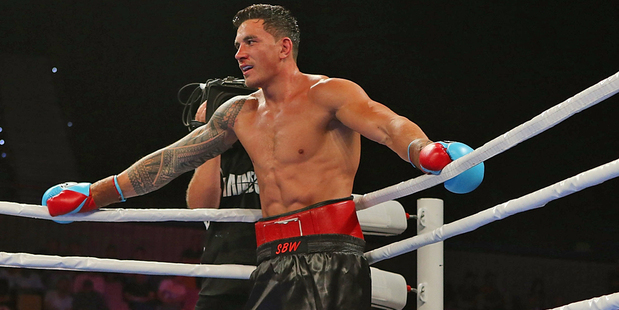 Claims of bribes of $150,000, mystery men lurking ringside, an apparently failed drugs test before the fight, a controversial unanimous points decision - is this really what Sonny Bill Williams wants?
His desire to be one of the world's best athletes is a lofty, even laudable, one, but this farce - hard on the heels of a dreadful week in Australian sport amidst claims of match-fixing and performance-enhancing drugs - could cause irrepairable damage to the 27-year-old's image.
After the chaos inside and outside the ring at the Brisbane Entertainment Centre, Williams sat exhausted and relieved in his dressing room between two of his greatest allies - trainer Mick Akkaway and Quade Cooper.
His other, manager Khoder Nasser, was keeping a close watch on the half dozen or so journalists allowed to interview Williams (one, an ABC reporter, was not allowed entrance as Nasser didn't like his attitude in the aftermath of the WBA International heavyweight fight).
Williams appeared humbled by what he had experienced. The realities of the fight game appeared to be catching up with him and he was thankful he had received a unanimous points decision despite having received the beating of his life at the hands of a 44-year-old. Still groggy from the fight, he thanked the two New Zealand reporters for making the trip to Brisbane.
Nasser was thinking about other things. He had calmed considerably after his shouting match with the Botha camp in the South African's dressing room, but was at his controlling best still, cutting the interviews short and hustling journalists out of the room.
Williams, who this week reported for duty at the Sydney Roosters for the first time, appeared lukewarm at the prospect of fighting again. Nasser will have other ideas, but SBW should give serious thought to his next move as the farcical fight and revelations afterwards - a late change from 12 to 10 rounds, failed drugs tests, alleged bribes - is harming his reputation. His exploits for the Crusaders, Chiefs and All Blacks had won him a new legion of fans after he walked out on the Canterbury Bulldogs and the NRL but, five years after that scandal, his stocks are back in the basement and through no fault of his own.
Williams' loyalty to Nasser is complete and he won't leave his manager any time soon. He feels he owes him after Nasser's help in the wake of his Bulldogs exit midway through the 2008 NRL season to play rugby for Toulon in France.
He had just signed a new five-year contract, with the Bulldogs getting the better of the deal in terms of money, but it was seen as a treacherous act. Williams has a Bulldogs tattoo on the inside of an arm but for fans of the club he is a marked man for different reasons.
Apart from his obvious talent at the three sports - and he showed on Friday night that he can box extremely effectively - and physical gifts, Williams' reputation is important to him.
That's why he should think carefully about putting the gloves on again. A re-match with Botha in Cape Town has been suggested by both camps and would be very lucrative but, after the fallout from Brisbane (and no doubt there are will be more revelations), Williams should think football club rather than fight club.
- APNZ