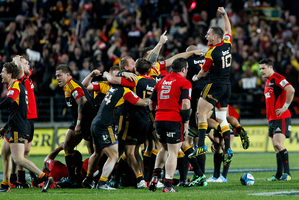 Call it a hunch. Then again, call it the obvious after looking through the team lists and history books.
The Crusaders will not only lead the New Zealand charge in this year's Super 15, but they'll win a first title for under-pressure coach Todd Blackadder.
The Blues don't have a hope of breaking their decade-long title drought, even though they'll be better than last year, because they couldn't get any worse. The coaching knights will be pulling their hair out by the end of the season, wondering why they can't turn Peter Saili into anything remotely resembling Kieran Read etc, etc.
The champion Chiefs will find out how much the departed Sonny Bill Williams meant to their brilliant championship season in 2012 and fail to defend the title. Williams was their x-factor, a vital one, and they rode a wave of first-year momentum under Dave Rennie and Wayne Smith that will be difficult to sustain. The Highlanders, in particular, and Hurricanes look interesting prospects.
What do we have on a nation-by-nation basis? New Zealand teams have a very good record of winning the title. The Aussies are flakes and do too much talking and not enough walking. As for South Africa ... the great Bulls days are over.
In case you're wondering why these rugby predictions, the Super 15 starts this weekend although only in Australia, which means the New Zealand fans will go into the season via the tradesmen's entrance. Rugby can't be accused of going overboard with the build up, preferring to down surfboards and togs late in the piece when it comes to publicity.
Making pre-season predictions about football competition winners is a minefield that can blow up in your face. In fits of madness, I have picked the Warriors and Cronulla to set the world on fire in league seasons in which they would have had trouble igniting a fag.
I'm certainly not brave enough to pick the Blues, who have cobbled together a squad by raiding the provinces. The stunning thing about the Blues is what's not stunning. There are blokes in there - quite a few of them - who Joe and Jane Public ain't even heard of. The front row looks scary-scary vulnerable.
A player in the Blues worth rallying around is Luke Braid - he is a bloke who always plays for keeps and will be especially vital early on when another braveheart Keven Mealamu is missing. Beyond that, there is an array of unknown quantities including captain Ali Williams who - let's face it - only got the job because there were no other candidates beyond Braid, who I would have picked. Williams was sensational at his peak, but often for the All Blacks more than the Blues. Intuition says he will struggle to see out the season, or play a full part.
Despite the spin out of Steve Hansen-land, 2012 told us that there isn't enough petrol left in the injury-ravaged Williams tank. The new Blues captain is as much a wildcard as the squad he is leading which includes Rene Ranger, the best freaky outside back prospect since Rupeni Caucaunibuca. Sadly, Ranger is in danger of going down as one of the great wastes of talents. In the modern game, even a one-off like Ranger has to know how to play the percentages, and he is proving a remarkably slow learner. If Sirs John and Graham can sort Ranger out, they might have a very distant shout. The unruly Ranger has truly exceptional potential and is the key to the Blues turning things around.
You know what's coming from the Crusaders though. They're full of Braid types. They'll be filthy at not winning a title for so long, and the early absence of Richie McCaw may even bring out the best in an outfit that thrives on picking players with a tough core.
It won't be a doddle and if there is a team to rise from sort of nowhere, another hunch says it will be the Highlanders. They've got a snarling forward pack - new recruits Brad Thorn, Tony Woodcock et al - and an old-style coach who will demand they stomp around the comp. There's also a lot of sharp stuff going on in the backline along with Ma'a Nonu's power to unleash.
The Highlanders know they flattered to deceive last year and didn't go on with the job. If it's okay to have a bob each-way, the Highlanders are well capable of winning that title after taking another look at their team list. The South Island is set to rule.