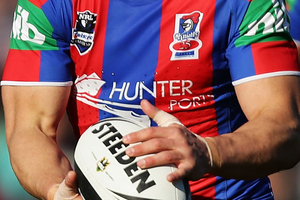 The New Zealand Warriors have confirmed the club has no had contact with any agencies in regards to the Australian Crime Commission investigation into performance-enhancing drugs in professional sport.
The Newcastle Knights, Penrith Panthers, Canberra Raiders, North Queensland Cowboys, Manly Sea Eagles and Cronulla Sharks have all had contact with the NRL confirming they were part of the ACC investigation.
Warriors chief executive Wayne Scurruh said the club had not heard from the ACC, ASADA or the NRL.
"We have had no contact and prefer to leave any statements to the NRL," he said.
The Sharks issued a statement on Tuesday morning stating they will continue to provide full support to the Australian Sports Anti-Doping Authority and the NRL in their ongoing investigations.
Cronulla say they won't be making any further comment at this stage: "but will endeavour to keep sponsors, members and fans informed of any developments where possible.''
Sea Eagles general manager David Perry said the club would continue to cooperate fully with the ACC, the Australian Sports Anti-Doping Authority (ASADA) and the NRL.
"The NRL has informed the Manly Warringah Sea Eagles that the club was the subject of intelligence gathering by the Australian Crime Commission,'' Perry said in a statement.
"The Sea Eagles condemn unreservedly any use of illegal performance-enhancing substances by players.
"We are unaware of any use of illegal performance-enhancing substances by any member of the Sea Eagles squad.
"We are complying fully with all requests from the NRL, ASADA and the ACC, with Deloittes already visiting the club last week to gather information pertaining to our sports science program.
"The club will not make any further comment until it has consulted with both the ACC and ASADA.''
The Knights were contacted by the NRL about the matter on Monday but say they have no further information or details on how they are involved.
"Our club will cooperate with any official enquiry,'' said chief executive Matt Gidley.
"We maintain full confidence under the management of (coach) Wayne Bennett.
"Until we receive further information from the NRL and/or ASADA, there is nothing further we can add.''
The NRL put the heat back on its sides after the ACC granted the league permission to notify the clubs referred to in the ACC's Project Aperio report - with the Cowboys outing themselves late on Monday night, while Penrith reportedly confirmed they were one of the clubs in the spotlight.
"We have been mentioned in the report but we have no information on the context,'' Cowboys chief executive Peter Jourdain said in a statement.
"Like all NRL clubs mentioned in this report, we will co-operate fully with the NRL and ASADA.
"Until we receive a briefing on Tuesday afternoon, we will not be making any further public comment.
"We strongly support this investigation.''
Clubs were told they were in the report but were not given specific information as to the nature of the investigations, with the ACC report making links between the widespread use of banned substances, organised crime and match-fixing.
AAP contacted all 16 clubs for comment on Monday night, with Canterbury, Gold Coast, Melbourne, Brisbane, Parramatta, Wests Tigers and South Sydney all claiming they had not been contacted by the NRL.
The NRL said it was not legally permitted to name the clubs, or specify just how many clubs were involved.
"The information that has been passed on to the clubs is simply that they have been referred to within the report,'' NRL chief executive Dave Smith said.
"The NRL is working with the Australian Sports Anti-Doping Authority (ASADA) who will establish a more detailed briefing with the clubs regarding its investigation.
"The NRL does not have authority to name the clubs or confirm the number referred to in the report.
"Regardless of the outcome of any investigation, we are already committed to establishing the strongest integrity and compliance unit of any code and we are determined to see rugby league stronger for having addressed these issues.''
Penrith boss Phil Gould says he hasn't been provided with any details on how the NRL club is implicated in the investigation.
Gould said he would seek more information as a matter of priority, so the Panthers can clear the air over how they are involved.
The outspoken rugby league commentator and administrator has been critical of the ACC for being vague in their handling of the matter since handing down the report last Thursday.
"Last night ARL Commissioner David Smith called to inform me that the Panthers club has been `implicated or referred to' in the Australian Crime Commission Report,'' Gould said in a statement.
"At this stage, that is all the information David was permitted to relay to us. No other details are available at this time.
"As we have stated previously, Panthers welcomes the opportunity to assist in any enquiry or investigation and we look forward to a speedy resolution to this matter, both for our club and the code of rugby league.
"We will do our best to keep our sponsors, members and fans informed as more details come to hand.''
Earlier Monday, Melbourne coach Craig Bellamy backed calls for clubs and fans to be given some clarity.
"I think a lot of people have said in our game and in other codes that we'd like them to name names, team or individuals,'' Bellamy said during a press conference to announce his re-signing with the Storm.
The Nine Network on Monday claimed Curtis Johnston, a lower grader with NRL club South Sydney, had been stood down as part of an investigation into allegations he used performance-enhancing drugs.
Johnston, who plays for the South Sydney's NSW Cup feeder club North Sydney and has yet to play in the NRL, is reportedly at the centre of an investigation following a series of damning text messages.
It is not yet clear if the drama surrounding Johnston is linked to the ACC's report.
The Nine Network claimed it had secured possession of a series of text messages from Johnston boasting about his use of banned substances.
It is believed Johnston claimed the text messages were a joke.
While refusing to name the player or club involved, NSWRL boss Geoff Carr said a player had been stood down following an allegation of illicit drug use.
"There's been an allegation and the club has been cautious and stood the player down,'' Carr said.
"There has been no positive test.''
The establishment of a helpline to provide information in relation to anti-doping doesn't seem to have gone down too well with players, with Tigers superstar saying he would not be inclined to dob in a peer.
"First of all that's not in my nature and secondly I don't know anyone that does it (take banned substances,'' Marshall said.
"If I did, I definitely wouldn't be involved in any sort of way to put them (in trouble) at all.''
Clubs confirmed in ACC investigation
Knights
Panthers
Cowboys
Raiders
Sea Eagles
Sharks
Clubs not part of ACC investigation
Warriors
Bulldogs
Titans
Storm
Broncos
Eels
Tigers
Rabbitohs
Dragons
Roosters
***
Kiwis or Kiwi-eligible/declared players at the clubs involved in the Australian Crime Commission investigation
Newcastle
David Fa'alogo
Jeremy Smith
Paterika Vaivai
Marvin Filipo
Tonga Likiliki
Toka Likiliki
Zane Tetevano
Junior Sa'u (left for Melbourne)
Evarn Tuimavave (left for Kull KR)
Penrith
Sam McKendry
Dean Whare (from Manly)
Lewis Brown (from Warriors)
Sika Manu (from Melbourne)

Canberra
Scott Jones
Bronson Harrison (has left for St George-Illawarra)

North Queensland
Jason Taumalolo
Antonio Winterstein
Kalifa Faifai Loa
Wayne Ulugia
Felise Kaufusi

Play Virtual & Fantasy NRL
Test your tipping skills with Virtual or create your dream team with Fantasy NRL and be in to win a slice of over $7,000 in prizes.
Be part of the game and sign up now.
- nzherald.co.nz/AAP