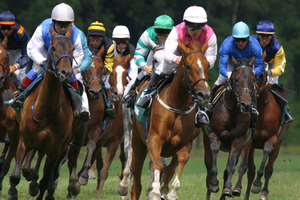 They were the odd couple of the 1990s in Victoria, the flamboyant young trainer Lee Freedman and the retiring, wealthy owner Lloyd Williams.
Together, they forged a formidable combination, winning group one races, including eight with Mahogany, a Golden Slipper with Merlene and a Blue Diamond with Knowledge.
Now they are back in the horse business together.
Williams has last year's Melbourne Cup winner Green Moon at his Macedon Lodge establishment at Gisborne, along with Sea Moon, another import who is one of the favourites for this year's race.
Importantly, Freedman is keen to start a new facet of his racing career, especially with European gallopers, of which Lloyd Williams has a paddock full.
He will take up the position of mentor to the 80 staff at Team Williams, including trainer Robert Hickmott and assistant Jason Chandler.
Freedman will also attend races and track gallops, buying and selling horses and setting programmes, adding a dynamic new dimension to the most celebrated owner in the nation.
He will start as head of all operations at Macedon Lodge within weeks, taking over as "the boss".
"I think it will be a terrific opportunity," Freedman told the Herald Sun. "I'll be directing racing and training, which means I will be integral on giving opinions and thoughts on training and placement of horses, along with Malcolm McLaren and Lloyd."
Williams says he is resuming a fine relationship.
"I'd like to think that Lee could help provide a new generation of Freedman-type trainers for the industry in coming years."
Lloyd's son Nick said the deal came about over a meal.
"Lee was saying how he wanted to put back into the industry. It was just a casual conversation, but suddenly the opportunity popped up and both grabbed it," he said.
"You don't often get an opportunity to have one of the great trainers in Australian history come to offer his knowledge."