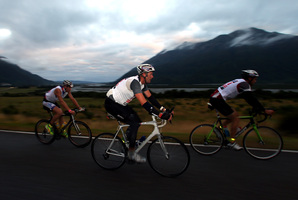 Mahe Drysdale doesn't know if he will be able to walk this morning, as he recovers from a "gruelling but fantastic" Coast to Coast on Saturday.
The 2012 Olympic gold medallist is accustomed to pain but says the 243km race was probably the toughest thing he has ever done.
The 34-year-old completed the course, which includes three cycle legs, two runs and a 67km kayak down the Waimakariri river, in 14h 8m to finish 39th overall.
"I loved being a part of it - it was incredible - but there were some pretty dark times out there," said Drysdale. "You are in constant pain for a long, long time. It is mentally very tough, probably tougher than a rowing race or the long-distance training sets we do. They can be two hours - this was another 12 hours on top and I was well out of my comfort zone."
On Saturday night Drysdale could barely walk up the stairs to his bedroom and was "shaking uncontrollably" in bed.
"[Yesterday] I sat up in bed but couldn't move," said Drysdale. "Juliette [Haigh] had to push me out of bed to stand me up."
At 2m and 108kg (10 kilos heavier than London) Drysdale stood out from the pack on Saturday. An experienced rider, he coped well with the first 55km bike stage and did well on the challenging 33km mountain run, (which requires numerous river crossings, boulder hopping and a vertical climb of more than 1000m), completing it in 4h 30m. The kayak was a struggle and he spent almost six hours on the water. He "blew up" a forearm in a training paddle last Monday, and developed tendinitis in the wrist and forearm throughout the stage. It was exacerbated by a fall on the run where he tore all the strapping off his left arm.
"After two hours I was hurting," said Drysdale, "but I knew I had another four to go. At times I wondered if I was going to finish, though I never contemplated pulling out and would love to do it again."
Drysdale will take two weeks off, before beginning training for the Port Macquarie Ironman in May. He will then return to a full-time rowing schedule.
Meanwhile, fellow Olympic gold medallist Joseph Sullivan had his own tales of endurance and agony, after completing the course in 14h 40m (59th place).
He struggled through the second half of the run, pulling a muscle when he misjudged a jump between boulders and later tipped out of his kayak.
Partner Holly Ross fed him fish and chips as he lay on the floor after the race - "I just needed salt and fat" - and he had to be carried up the stairs later that night.
Sullivan said he had "massive respect" for elites like winner Braden Currie and Richard Ussher - "they are incredible to do what they do" - and couldn't wait to do the event again, probably after the 2016 Olympics.