Cassidy repels determined challenge from Brit Alex Lynn and Steijn Schothorst from the Netherlands.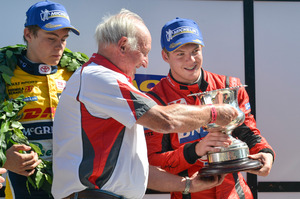 The New Zealand Grand Prix title remains in Kiwi hands despite the onslaught of 16 internationals vying for it yesterday at the last round of the Toyota Racing Series at Manfeild.
Defending NZGP titleholder Nick Cassidy held off a determined challenge from Brit Alex Lynn and young Steijn Schothorst from the Netherlands over 35 laps to hold the trophy aloft again.
Cassidy started on the front row alongside Lynn and won the drag race into the first corner to take the lead and was never threatened.
The 18-year-old Aucklander controlled the race from the front, never allowing Lynn to get closer than half a second. Even during the numerous restarts after the appearance of the safety car, Cassidy managed to keep his nearest rival at bay and regularly pulled a comfortable gap within a racing lap.
"It's been great to be able to defend the New Zealand Grand Prix title and get my name on the trophy again," said Cassidy.
"We always had our eyes on this race [NZGP] and managed our tyres well. The car was great and I managed to hold off the others."
Cassidy gave himself an extra challenge while defending both the NZGP and TRS titles in that he changed teams. Wanting to develop himself further as a team player, he wanted to prove he could work with any given team and produce the goods.
"I'm certainly relieved and very pleased my decision paid off. Full credit to both teams as Giles did an amazing job last year, as M2 did this year.
"I don't think it's about what team is better than the other but rather how you as a driver work with the team," said Cassidy.
The NZGP race was the last event in the five-round 15-race session held over the past five weeks. Cassidy also managed to defend his series title.
Heading to Manfeild three drivers - Cassidy, Lynn and Austrian Lucas Auer - were in the box seat. Cassidy played the long game.
Auer and Lynn both messed up yesterday morning's race to finish well down the field while Cassidy podiumed again to extend his point's lead. At the end of the day Cassidy had the title from Lynn, Auer and the impressive Schothorst. "We had a seventh and an eighth and every other result was in the top four during the season.
"It's pretty incredible to think that in 13 races you can finish inside the top four, especially this year with the number of overseas drivers," said Cassidy.
Final TRS points
Nick Cassidy 915
Alex Lynn 803
Lucas Auer 797
Steijn Schothorst 754
Bruno Bonifacio 650
Felix Serralles 646
Pipo Derani 625