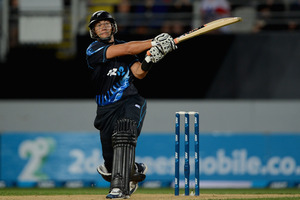 Ross Taylor's return to the national team didn't go as he'd have wanted but he would certainly have felt the public love.
The former skipper, who took a break during the South African tour after his sacking as captain, put down two catches during England's innings, one a difficult one-handed diving effort; the other a bad miss running in from deep mid wicket.
He wasn't alone. New Zealand grassed five opportunities as England rattled up their T20 record 214-7.
If you like symbolism, then try Taylor striding out, passing the man who replaced him as leader, Brendon McCullum.
The 23,000 crowd rose to salute Taylor, a rousing ovation ringing around Eden Park. There was no doubt where their loyalties lay in the vitriolic New Zealand Cricket vs Taylor saga.
The stage, then, was set for the returning hero to lead the way to what would have been a best T20 run chase for New Zealand.
Edgy early, he had to recover his ground rapidly after backing up too far first ball, then was beaten by a beauty from Jade Dernbach.
He flayed the same bowler to the backward point fence, and then was gone, holing out to the longest boundary on the oddly-shaped ground before jogging off as if late for a bus.
Thirteen off 14 balls. It was simply nowhere near enough runs, but at least he was back, seemed to be the reaction.
"We are working well together," coach Mike Hesson said yesterday of their badly fractured relationship over Taylor's dumping.
"It's going to take a while before we're going out for coffee every week," he added cryptically.
"Work in progress" has become the ad nauseam catchcry to describe Hesson and Taylor's situation. Hesson said yesterday - reinforcing Taylor's words last week - that the pair are "pretty keen to move on".
"It's certainly good to have him back. The longer we work together the better the relationship will be. Ross and I function very well together."