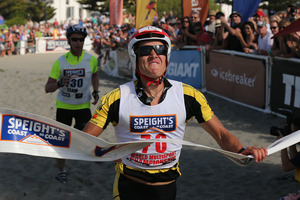 It's hard to believe now but 2013 Coast to Coast winner Braden Currie was once a chubby teenager and still carries the nickname 'Slug'.
Currie beat favourite and five-time winner Richard Ussher by more than five minutes yesterday, with a devastating run leg opening a big lead which he maintained to the end. It was the 26-year-old's second attempt at the one-day event after he finished third last year.
The day was a case of young over old as Sophie Hart (26) repeated her 2011 triumph, beating two-time champion Elina Ussher (36) to win the women's race.
Currie's older brother Glen, who has a Coast to Coast silver medal and was a part of the support crew yesterday, bestowed the 'Slug' nickname on a 10-year-old Currie.
"I was quite overweight as a young kid," said Currie. "One day we were playing backyard cricket and I couldn't be bothered fielding. I was just rolling around on the grass.
He said, 'get going you fat slug' and it has stuck ever since".
Indeed it has. He crossed the line to chants of"Go, Slug" before embracing his wife Sally and young son Tarn (4). It is a timely win for Currie, who two days ago finalised the purchase of a block of land in Wanaka.
"We were scratching around for a deposit so the prize money ($10,000) is great timing," he said.
Currie paid tribute to Ussher, with whom he raced in team events during 2012: "He's always been a hero and icon of the sport to me. He has helped me out a lot over the last year and it is probably the only reason I am here.
"I raced with him a lot last year and every one of those races he pushed me so hard. That gave me the strength to do what I did today."
"He was brilliant today," said Ussher. "I was happy with my effort considering the build-up. I'm happy for him though; he has developed so much."
Currie made a break on the mountain run and split the field, galloping through the 33km run in 2hr 53m 44s. Trevor Voyce had moved into second place, ahead of Dougal Allan (almost 11 minutes behind Currie) while 36-year-old Ussher gave up 14 minutes to Currie as he came into Klondyke Corner.
The contrast in transition styles was fascinating; Allan had a quartet running beside him, with his cycling gear at the ready as well as a banana, drinks and potato chips. Ussher was joined by just one member of his support team but was as methodical and smooth as ever.
Ussher is a renowned paddler and was tipped to make ground in the 67km journey down Waimakariri river. He did (almost eight minutes) but still trailed Currie when they left the water for the 70km slog into Christchurch.
Meanwhile, Hart's was a convincing win - she led on every transition, leaving Ussher in her wake across the mountain pass as she completed the run 12 minutes faster than her Finnish rival. With Hart stronger on the water, a comeback from Ussher was always unlikely.
Greymouth's Seamus Miekle took out the men's two-day event ahead of Mitch Munro. Wanaka-based Jess Simpson, competing in just her second multisport event, won the female two-day category, breaking the race record by 10 minutes. Her stunning time was thanks partly to a brilliant run.