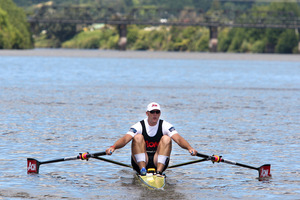 For surely the first time in the long history of the Speight's Coast to Coast, there were three Olympic medallists in action yesterday.
As well as 2012 gold medallists Mahe Drysdale and Joseph Sullivan in the one-day event, former world champion and Beijing bronze medallist Nathan Twaddle was part of a three-person team in the two-day event.
Drysdale and Sullivan were almost the last to the start line for the 6am start yesterday, emerging along the dark road to the start at Kumara beach just four minutes before the horn sounded.
Drysdale had a brief chat to the waiting media pack, declaring he had endured a nervous sleep the night before, but couldn't wait for the race to get under way.
"The 4am start was a bit rough," said Drysdale. "We don't even get up that early for rowing."
Standing nearby, Sullivan was happy to stay out of the limelight.
"With Mahe around, I can be under the radar," laughs Sullivan, "and that is fine by me."
While the Coast to Coast had been a long-held goal for Drysdale and could be realised during his sabbatical from rowing, Sullivan's path to the start line was much harder to explain.
"I think Mahe planted the idea in my mind," he says. "Maybe he was looking for a training partner. I've been wanting to do it since high school but I thought it would have to wait until after I finished rowing."
Sullivan, who will compete in the rowing national championships next weekend, admitted it had been "tricky" to prepare for the race alongside his heavy rowing commitments and he didn't start training until around Christmas.
"It's been a bit difficult but I've give it a nudge", Sullivan said before the race.
"I'll be nervous - it's a lot longer than I am used to and most people do the two-day event first."
Drysdale was relaxed about the bike legs.
He once did an 8 hour, 175km ride in Switzerland ("I did some mountain passes then had to find my way home") but knew the run would take him out of his comfort zone.
"I might be an Olympic champion but not in multisport," said Drysdale. "I just hope I am not in the hurt locker all day."
Twaddle joked that Drysdale is "collecting endurance sport experiences around the globe" and the five-time world champion plans to do the Port Macquarie Ironman in May.
Yesterday, Drysdale coped well in the first bike leg, nestled in the chasing bunch behind the leaders.
The 34-year-old looked like he was on a unicycle, as he towered above the pack. Wife Juliette Haigh was part of his support crew, tying laces on one shoe at the first transition.
Nathan Twaddle made a dramatic and slightly unusual entrance onto Sumner beach to the finish line.
Along with fellow rower Sam Earl, they carried the third member of their team, Emily Miazga, on their shoulders. It was quite a sight, with the men resplendent in loud lycra suits and Miazga (a three-time winner of the individual event between 2008-10) in a bright yellow bikini.
"We wanted to replicate - in our own way - what they did for Mahe in London," said a pained but beaming Twaddle. "The race has been a great experience; doing something like this, which is so enjoyable makes the thought of all the training worthwhile.
It definitely helped having Emily; she taught us so much and you don't want to let down a legend."
Twaddle is already talking about returning next year with Earl, and the 36-year-old is aiming to complete the one-day event for his milestone birthday in a few years' time.
Twaddle was roped into the event by Steve Gurney, after the two presented at a conference together for Sport New Zealand.
"I was hesitating and he said, 'don't be so soft'," says Twaddle. "So here I am. Hamish Carter likes to joke that rowers run like elephants - I guess we want to prove him wrong this weekend."