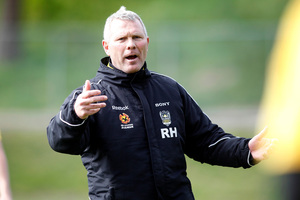 The next six weeks could make or break Ricki Herbert's club coaching career. Although he has the undoubted backing of the club owners, their patience will be tested if the current pattern continues.
The play-offs look beyond the Phoenix, especially as they still have to play in Brisbane, West Sydney and Perth and also host Adelaide and Melbourne Victory.
Remember, the A-League has the most generous play-off allocation of any Australasian league. Six of the 10 teams (60 per cent) contest the finals compared with Super Rugby (40 per cent), ANZ Championship netball (40 per cent), NRL rugby league (50 per cent) and ANBL basketball (50 per cent).
Making the top six was meant to be the bare minimum this season; there was talk of challenging for the title.
The league is stronger in 2012-13 but that can't solely justify the disappointing season for the Wellington club.
They recruited strongly in the off-season, bringing in Stein Huysegems, Jeremy Brockie and Benjamin Totori.
The squad was further strengthened with the announcement yesterday that Fulham striker Corey Gameiro has been signed on loan until the end of the season.
Gameiro is an Australian 20-year-old who has recently been on loan at second-tier Dutch club FC Eindhoven.
While the Phoenix might lack a creative midfielder, this is still a roster with plenty of talent. They have numerous All Whites, as well as a former Belgian international (Huysegems), Solomon Islands representative Totori and Malta's Manny Muscat.
However, the attack still relies heavily on the brilliance of Paul Ifill and the midfield play hasn't really developed over the past few seasons.
They have been unconvincing at home - sometimes looking like the away side, as their opponents have dominated possession and territory - and limited across the Tasman.
Apart from both games in Adelaide (where they were genuinely unlucky), a gutsy draw against the Heart and a win in Newcastle, the Phoenix have struggled to compete on the road, continuing a dismal away record of recent years.
Looking ahead to next season, the owners may also get edgy when they realise that a large portion of Herbert's focus in October and November will be on the All Whites campaign, if New Zealand top the Oceania standings.
There are (hopefully) two World Cup qualification matches in November and two, perhaps three, warm-up matches, likely to be held offshore.
It will mean that over a quarter of the A-League season will be over before Herbert can fully focus on his club.
Foundation coach Herbert has earned plenty of credit (as Messrs Morrison and Morgan have mentioned) for his deeds since 2007 and deserves a chance to show he can turn things around. However, the Phoenix surely must finish this campaign with some kind of flourish, to present a base for 2013-14 otherwise the end of season review could be lengthy.