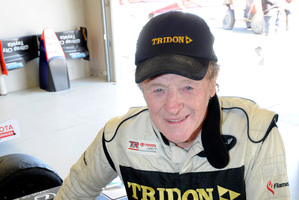 If there was one person who epitomises passion for sport, let alone motorsport, it would have to be Kenny Smith.
He was winning hill climbs in 1958 and is still a force to be reckoned with 55 years later.
This weekend at Manfeild, the 71-year-old with more titles than you can poke a stick at, has left his F5000 at home and is climbing back into a Toyota Racing Series car for his 47th tilt at the New Zealand Grand Prix.
While Smith's competition in today's feature race may be much younger than him, he's no stranger to mixing it with the great and the good.
In his heyday, in the late 1960s and 1970s, Smith was going wheel-to-wheel with the likes of Bruce McLaren, Graham Hill, Stirling Moss, Denny Hulme, Jackie Stewart and Chris Amon.
He won the first of his three NZGP titles in 1976, backed up with another in 1990 and more recently in 2004.
"I started racing in the Grand Prix when the best superstars of Formula One were here. I probably still rate them more than I do the current ones," said Smith.
After 55 consecutive years of howling around race tracks you'd think he would have hung his racing gloves up by now and put his helmet on the top shelf. Not a chance.
"As long as my reaction times stay as good as they are, I have no intention of giving up racing. As long as I keep passing my medical every year, I'll keep racing," said Smith.
He will be mixing it with some of the best up-and-coming drivers from New Zealand and around the world. There are 16 overseas internationals aged between 16 and 21 who'll line up alongside Smith as he goes for yet another trophy.
"I know I won't be too competitive because you can't just jump into a car and do it against guys who have already raced four competitive rounds.
"It was hot going but I enjoyed the race [Saturday's Dan Higgins Memorial] and after a year out of the car it was a bit of an ask, but once you get going it's all good.
"I've got nothing to prove and I enjoy the starts because I can give a few of them a bit of a hiding and make them work to get past," said Smith.
Of the four Kiwis in the 20-strong field - Nick Cassidy, Damon Leitch, Michael Scott and Smith - only Cassidy is taking it to the imports.
"Cassidy is at the top against all these superstars.
"That really impresses me. TRS has given us nearly 10 years of an almost factory backing racing team that is no different from Formula Renault in Europe," said Smith.
Steijn Schothorst made the most of his front row start and out-dragged pole sitter Alex Lynn to the first corner and was never headed coming home first ahead of Cassidy and Lynn.
"We planned on getting a good start, which we did, so I could get to the inside and off the dirty line," said Schothorst. "I had bit of a moment at the end of the straight but I was just checking my braking points. It was a shame the safety car came out towards the end but I was comfortable."
By coming home in front of his nearest rivals Lynn and Auer, Cassidy extends his lead in the championship to 45 points over Auer with Lynn a further 14 points back.
Racing this morning will feature a reverse top eight grid and the New Zealand Grand Prix in the afternoon with Lynn and Cassidy on the front row.