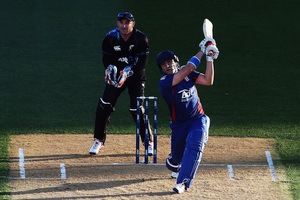 If you like a six, well, Eden Park was for you last night. If you like your cricket as a genuine contest between bat and ball, forget it.
England and New Zealand bruised the ball to all parts, but particularly straight in the visitors' 40-run victory after being sent in. A maximum of 68m from the batsman's end of the pitch to the boundary rope straight (48m in the opposite direction) ensured even modest chip shots earned maximum runs.
The game's marketers presumably love this; purists cringe. A test match is due to be played here next month and it's doubtful even Sir Christopher Wren could create more space at Eden Park in its current dimensions.
A total of 23 shots went beyond the boundary rope last night, the third most in a T20 international. England's total of 15 sixes was also the third most in a T20 innings - 17 is the record held by South Africa against England at Centurion in 2009. It was a record score for England in a T20 match and their 214 for seven equalled the most runs in a T20 at Eden Park.
The England batsmen deserved commendation. They were served up deliveries often in the arc of a perfect bat swing and dispatched them.
The England top six scored between 21 (Alex Hales) and 46 (Eoin Morgan) with each batsman posting a strike rate in excess of 130 and a couple of them over 200.
The New Zealand bowlers were not helped by sloppy catching. Five went down and England capitalised. It was also the highest score in a T20 match in New Zealand.
Inconveniently for the hosts, 214 was also the highest total chased by any team in a T20 international when Australia tied with New Zealand in 2010 (New Zealand won in the eliminator over). The highest successful chase was 211 by India against Sri Lanka in 2009 ... New Zealand's chances were always slim.
Ross Taylor dropped two catches on his return but redeemed himself a little by pouching Morgan. James Franklin, Ronnie Hira and Mitchell McClenaghan spilt one apiece. The butterfingers cost New Zealand 39 runs. They lost by 40. McClenaghan didn't seem to see his chance as it scuttled from Morgan's bat to the short third man fence.
Skipper Brendon McCullum said: "Catching was a big concern today. No-one means to drop catches but five in a T20 did not help the cause. It's an area we normally pride ourselves on but tonight, we were off the pace."
On the ease of boundaries at Eden Park, he said: "They seemed to be able to access those boundaries pretty easy. We've played here a few times [since the revamp] and while it brings a quirk to it, there are no excuses; we knew the conditions and boundary sizes when we came into this game. They put us under pressure and execution became tougher."
Like Taylor, McClenaghan atoned with the most economical of the New Zealand bowling figures - one for 29 from his allotment. He also bowled one of just two overs (the first of the innings) that didn't include a boundary; Boult delivered the other in the 17th.
New Zealand's best piece of cricket came from a Ronnie Hira armball to dismiss opener Hales through a slick McCullum stumping in the fourth over.
Morgan continued to show the way during New Zealand's turn at bat. His catch of McCullum was memorable, running back about a pitch length from point to take the ball over his shoulder.
Any doubts about where the public sentiment lay in the Taylor captaincy saga were also settled. He received a standing ovation from the 23,758-strong crowd on his way to bat. He could not capitalise on the support, dismissed for 13 off 14 balls.
Guptill gave the New Zealand innings spine but 44 off 32 balls was not enough of a catalyst to spark a revival.
The New Zealand batsmen had to force the pace from the first ball and succumbed to an astute series of slower balls and back-of-a-length deliveries. Captain Stuart Broad produced his best T20 figures with four wickets for 24 from four overs.