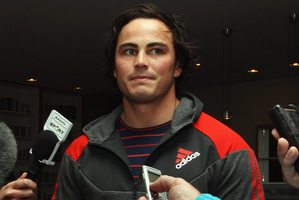 Zac Guildford's girlfriend hopes the experts are proved right and the rugby renegade can be okay after four weeks of treatment.
Guildford, who stepped down indefinitely after an incident in which he allegedly assaulted a party goer in Christchurch during a night of drinking and gambling, is undergoing a one-month course of intensive treatment at an undisclosed location.
Sam Spratt, Guildford's girlfriend of eight months, said Guildford was doing well.
"He's dealing with it well. I think he's keen to get back into it," she told the Herald on Sunday.
"He loves playing rugby. I think it will be third time lucky. I think he's well and truly put his hands up."
She said Guildford's manager Simon Porter had arranged the rehabilitation, and she did not know if he would be ready to return after the month-long course.
"I wouldn't have a clue. It's in the hands of the professionals so I'll leave that up to the professionals. It was a very small incident but he has realised that he really needs help. It was nothing major. The guy the next day basically said there was nothing to it."
However, she said Guildford accepted booze was an issue.
"He has just realised alcohol is not his friend. He is not an alcoholic or a heavy alcohol drinker. He is not in any means like that. But it affects people in different ways and people react differently in some circumstances. I have been out drinking with him a few times and I have never known him to be aggressive.
"It's a shame there have been a couple of incidents that have put him in the spotlight. He's a really nice guy. He loves his supporters and it's letting them down that has hit him the hardest. But he has his family around him and I support him. You take your knocks and you get up and back into it.
"He's loving and kind. He would do anything for me. He helps me look after my son. He would do anything for anyone. He's almost more affectionate than I am. I'm quite a hard person. It's a breath of fresh air," she said.
She rejected suggestions he had a gambling problem.
"I know it looks bad that he's with a jockey and living with a bookmaker. But he doesn't even have his own TAB account. I know he has made some bets when he's been to the races with me but that's about it," she said.
In August 2011, Guildford broke team rules when he left the All Blacks' hotel to go out after their Bledisloe Cup victory against Australia at Eden Park.
Within weeks, he again drank heavily and broke team curfew after the All Blacks' 25-20 defeat to the Wallabies.
In November 2011, Guildford was arrested after he stormed into Trader Jack's in Rarotonga naked and allegedly punched two men. He then announced a self-imposed 12-month drinking ban, saying: "I need to sort myself out."
Only 11 months later, after being photographed drinking at a function, Guildford said he now trusted himself to enjoy one or two drinks with friends.
But last month he stood himself down from the Crusaders after the latest incident.

Play Virtual & Fantasy Super Rugby
Test your tipping skills with Virtual or create your dream team with Fantasy Super Rugby and be in to win a slice of over $7,000 in prizes.
Be part of the game and sign up now.