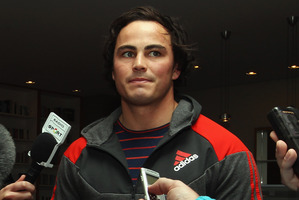 No one should be on the scrap heap at the age of 24. Everyone at that tender age should have hope, be it the under-achiever from school days figuring out how to get his life on the right track; the young car-crash victim battling for normality; or the wayward rugby star.
No one wants to see the door shut on these youngsters - let alone be the one responsible for slamming it closed.
And that is the biggest thing in favour of Hawke's Bay-raised and Canterbury-honed rugby player Zac Guildford keeping his job with the New Zealand Rugby Union.
Guildford is not in a good place. He has, apparently, admitted an alcohol problem and is seeking treatment for it. He has done some remarkably stupid things, and embarrassed his family and his employers.
The drunken escapade in Rarotonga, where he staggered into a bar bleeding and naked and proceeded to whack astounded patrons, is surely the most forgettable action of any Kiwi sports hero.
His Crusaders coach, Todd Blackadder, said: "There's no second chance to learn here. I think that's really clear. There are no more misconducts, if there's anything remotely close then he's gone."
Fast-forward barely a year and the tone has changed, though certainly not Guildford's actions. He has admitted trying to hit at least one occupant of a Christchurch house while on a drunken bender. He's now on a month-long addiction course that we are told could turn him around. Blackadder now feels the situation can be salvaged.
"If he sticks to getting professional help, we'd love to have him back. If all the other parties agreed - Zac, his representatives and helpers and the NZRU - then returning to rugby could form an important part of his rehabilitation."
It's laudable Blackadder cares about the welfare of his man, though the departure of one of his other wingers to the Scottish national side could be influencing his thinking.
Guildford, of course, could just as well be rehabilitated back with his Hawke's Bay side in the lower echelons of New Zealand rugby. He could also be looked after by some rich foreign club with the ability to hire watchers to ensure he stays clean.
It is time the NZRU put the interests of its own reputation first.
This young man is extremely lucky not to have ended up before the courts. The Cook Islands police gave a scarcely believable account of why they did not prosecute, then helped get him out of the country with the minimum of fuss. The victim in Christchurch elected not to lay a complaint. Guildford has been a lucky man.
In Australia, the National Rugby League - though under more than a little bit of pressure this week over allegations of drug-taking in the sport - has finally realised the damage misbehaving athletes are doing to its image and routinely rips up the contracts of those who overstep the mark.
We're yet to see the NZRU show the same principles consistently.
Zac Guildford will not be thrown to the wolves if he is sacked. Someone, somewhere, will pay him good money to display his undoubted sporting talents.
If rugby wants evidence of that, look no further than another Kiwi sports bad boy, Jesse Ryder.
Ryder, too, had a drinking problem, though his well-publicised incidents were more boorish than brutish. After a self-imposed exile, he is back in the sport and doing well. So well, in fact, he is electing not to play for the national team. His recent boxing foray and new Indian Premier League contract mean he doesn't have to.
It's why no one should have fears for Guildford if rugby chooses to do the right thing. Let him prove he is worthy of a recall to the national rugby gravy train.