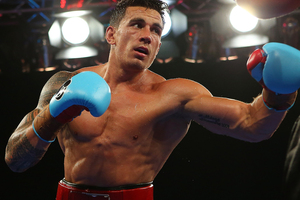 The TAB is refunding 'Pick the Round' bets and SportingBet Australia are refunding all bets on Francois Botha for the controversial boxing match between Sonny Bill Williams and Francois Botha in Brisbane last night.
Meanwhile, according to Sonny Bill Williams' boxing camp, last night's WBA title fight against Francois Botha was always scheduled to be ten rounds.
Williams tweeted 'we both knew it was a ten -rounder' today, while his manager Khoder Nasser conducted a fiery two minute interview with Nick Walker from Radio Sport where he questioned where it had ever been publicised as a 12 round fight.
Nasser might be surprised to find that Williams himself was promoting the fight as a 12 rounder at Thursday's weigh-in, the day before the fight.
"He's crafty. It doesn't matter what you look like. Experience is the key ... I think his last four or five fights went the distance. He'll do 12 rounds pretty easy. Hopefully I can up the pace a bit or slow it down - fight it at my pace," Williams said on Thursday.
When Nasser was quizzed on Botha's reaction to the fight - where the South African claimed the fight should have gone the full 12 - he suggested the experienced pro was acting dumb.
"Are you that stupid are ya? Have you not been around boxing long enough to understand people do that in boxing all the time?"
Nasser then avoided answering a question on when the decision had been made to make the fight ten rounds.

Meanwhile, Australian National Boxing Federation (ANBF) committee member John Hogg has rubbished claims the decision to cut short the bout was made after the fight started.
However, the legitimacy of what was purported to be a WBA international heavyweight fight between Williams and South African veteran Francois Botha remains unclear.
Williams defeated Botha in a unanimous points decision, but the former All Black copped a battering in the final round.
The fight, which was advertised and scheduled for 12 rounds as per WBA rules, was stopped after 10, drawing an angry reaction from Botha and jeers from the crowd.
Hogg says a last-minute decision to shelve the final two rounds was "unusual" but that it had been ticked off by officials after both camps agreed shortly before the fight started.
"Any suggestion that there was any decision made during the fight is just nonsense," Hogg told Fox Sports on Saturday.
"Any claim that it was cut back to 10 during the fight to save Sonny Bill is just nonsense, we wouldn't be party to that.
"Both parties told us it was cut back to 10 rounds, we had no time to try and check with the WBA to see if they were aware of what was happening.
"It wasn't for us to stand up and say 'we don't agree, you need to fight 12'.
"It was a bit puzzling as to why it had been cut back to 10, but obviously both corners were in agreement."
It's understood Botha's management bizarrely failed to tell the 44-year-old it had been cut to 10 rounds.
Hogg's comments are in stark contrast to The Australian newspaper's report that ANBF vice-president Alan Moore, a ringside judge for the bout, had no idea it had been shortened to 10 rounds.
"When the ring announcer said over the loud speaker that it was the last round, that was the first we (judges) knew of any change," Moore was quoted as saying.
"Any international title fight is meant to be fought over 12 three-minute rounds. I have no idea what happened."
Hogg said the WBA did not have a representative at the bout.
"Normally these overseas bodies send someone locally there to be the supervisors for their title fight.
"...What agreement, whether the fight was formally sanctioned by the WBA, you'd have to ask the WBA or the promoter. We don't get involved in the sanctioning."
It means the legitimacy of Williams' WBA belt is being questioned.
Botha is expected to lodge a protest with the WBA.
NZ TAB head bookmaker Mark Stafford said his agency was stung by the fact the fight was cut to 10 rounds.
Stafford was unimpressed, saying it was the third time the TAB had been caught out by a Williams fight which didn't go the full distance.
Twice before, Williams had scheduled eight-round fights but they had stopped at six.
New Zealand heavyweight champion Williams, 27, pronounced himself satisfied with his sixth win from six professional fights but wouldn't be pressed on his future in boxing.
He now laces up his rugby league boots for an NRL campaign with the Sydney Roosters.
-nzherald.co.nz and AAP