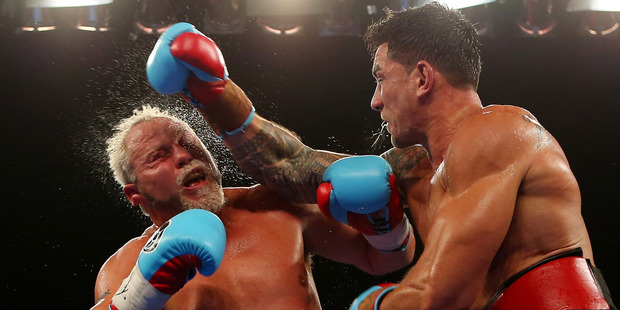 Francois Botha was all laughs during the week, which raised the question of how serious he was taking his fight against Sonny Bill Williams.
But it became very apparent how much so as the controversial WBA International heavyweight encounter developed at the Brisbane Entertainment Centre.'
After the early rounds Botha would smile at Williams after the bell but there was no smiling in the final stages as the "White Buffalo'', standing solid in the centre of the ring, stalked his taller and more athletic opponent. He would leap at Williams with a roar, his right hand doing most of the damage.
Williams had the better of the early exchanges with his sharp and powerful jab. His right hand also showed improved power.
But the momentum swung in the eighth. Both fighters punched each other after the bell, prompting Williams' trainer Mick Akkaway to enter the ring to remonstrate with referee Tony Kettlewell.
Botha's corner sensed the shift in the ninth. An urgency crept into their voices as they yelled on their man in Afrikaans.
After being deducted a point for punching after the break, there was no smiling from the 44-year-old at the end of the round, only an obscene instruction for Williams.
After the chaos of the 10th round, Botha demanded a rematch, and preferably in Cape Town.
Botha, who has 60 professional fights to his name, admitted he dug deep into his bag of tricks.
He said of his penchant for hitting with both hands behind Williams' head: "You know what? It throws your opponent and it messes you up. Through the years you learn this and I do it in a certain way so the ref doesn't see it.''
He added of the apparent late changing of the fight from 12 rounds to 10: "I was chopping him down and one more round, bo! Timber and then boom he would have down!
"It's bulls**t, you can't do it. There are rules and regulations. It was in the press conference, on the programmes; a WBA 12-round international fight. You cannot change it.
"I got so much support here, but people love me and that alone showed me that I'm the winner.
"He's a big boy [but] he never hurt me. He had a good jab but he doesn't do enough. I told him, because I talk always. I spar with my son and tell him what he's doing wrong. I told [Williams], listen, `you're showing your punches'.''
- APNZ