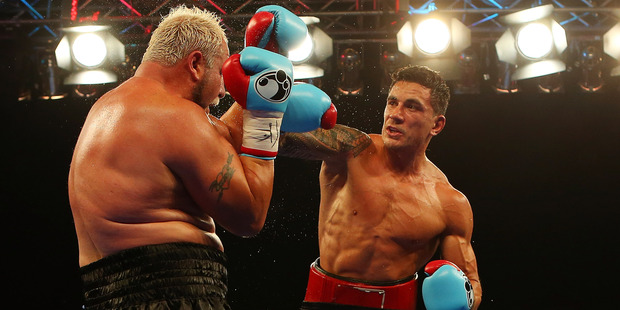 When the dust had settled on a dramatic night in Brisbane, Sonny Bill Williams sat in his dressing room next to his mate Quade Cooper and trainer Mick Akkaway and sounded unsure about his future.
He looked relieved at beating Francois Botha for the WBA International Heavyweight title, but also very tired and more than a little groggy. The former All Black was out on his feet in the 10th and (what turned out to be) final round. And more than an hour later he was still showing the effects of some well-directed punches from the South African.
"Maybe, I'm not sure,'' Williams said when asked if he was keen to box on. "For myself, it's just a battle within myself accomplishing things like this. It's pretty cool to not have any amateur experience, you know boxing isn't in my blood, to beat a guy who has been doing it for 20 years.''
On Monday he will meet up with his new Sydney Roosters teammates. While he said he didn't need a rest, there is little chance that he will be involved in any contact training.
"I thought I was winning the rounds,'' he said of the fight. "He caught me with a few good shots at the end there. I've never gone beyond six rounds before so I'm just proud of myself... taking on someone with that experience and coming out on top. Hopefully I gave the crowd their money's worth. Yeah, it was a good experience.''
Asked about Botha's tactics, which included punching after the break (for which he was deducted a point) and double punches to the back of the head, he said: "I guess I don't really have a dirty bone in me. Him being the crafty old bugger that he is, he was punching me in the back of the head, standing on my feet, trying to stop me moving, things like that.''
He added of the 10-round/12-round controversy: "I thought it was going for 10 rounds, just like the New Zealand title that I fought for. My whole preparation was geared for 10 rounds.
"If we do have a rematch I'd love to have one in South Africa, preferably in Cape Town, because I've got a lot of fans there, probably more fans than he does.''
Asked if he was disappointed the crowd booed him, Williams added: "Can't remember, bro. After the third round I was blowing pretty hard to be honest. I was proud that I dug deep.''
- APNZ