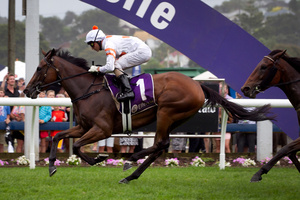 It's surprising the $2.60 around Fix in today's $100,000 Cambridge Stud Sir Tristram Fillies Classic lasted from Thursday to late yesterday.
The circumstances around her 2000m challenge this time are much more favourable than when she successfully tackled it in the Royal Stakes at Ellerslie. Which means the $2.60 is probably good value.
At Ellerslie Fix drew the outside gate at the tricky 2000m barrier and sprinted hard early to take up the running. That can bring young horses undone when it comes to finishing power, but Fix managed it beautifully.
"I'm completely rapt that she's drawn well this time, it makes life a lot easier," said co-trainer Ken Kelso.
Fix is one of those horses, Kelso believes, who is not a natural stayer, but gets away with at least 2000m against her own age group.
"She had to do it tough at Ellerslie and got away with it and this time she should get a cosy run.
"Having said that, I don't think she's as good this way around as she is right-handed at Ellerslie."
If Fix is beaten it could probably only be the left-handed track. She has tactical speed and fights right to the finish of her races.
Kidwelly, Soriano and Abidewithme are most fancied to make a race of it with Fix, although the odds are much more generous.
The race sponsor, Sir Patrick Hogan, has for several years believed this race should be elevated from group two to group one. The way New Zealand racing is headed with its advantage for fillies there is every chance of that happening.
At the yearling sales, if you are buying to trade then a colt is your best option because they are the only real option to trade to Asia.
But if you are buying to race, you'd be crazy not to purchase a filly.
There is now a 2kg allowance for fillies and mares in most races and more and more opportunities for fillies than colts on the racetrack.
On Monday at Te Awamutu it is relatively typical that the maiden race restricted to fillies and mares is for $12,000 while the other three open maiden events are for $7000.
This fillies' race will get stronger and stronger and although we are in a domestic climate where we are downgrading stakes races rather than upgrading, it's not a given this fillies' race will not get an honourable mention.