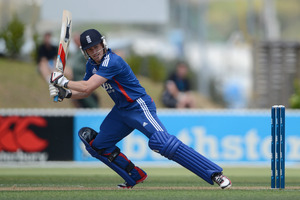 If it sounds a touch new frontier, that's because it is.
England's middle order maestro Eoin Morgan raised the spectre of more invention from batsmen in the short forms of cricket.
Batsmen becoming adept at taking guard as both a left and righthander is coming.
Cutting-edge stuff? Consider that in an age of reverse sweeps, scoop shots over the wicketkeeper and with batsmen forever looking at new scoring possibilities in the short-form games, Morgan is confident of one direction the future will take.
He cited a batsman, pegged down by a spinner turning the ball away, switching around and being more easily able to knock a ball into a gap.
Is that feasible? "Yeah, absolutely. I haven't done it successfully yet, so you won't be seeing it [from me] any time soon."
There's no question one of the appeals of T20 is the exotic strokeplay.
"It's weird. It's a given these days that people knock you over your head at both ends of the ground, which is great to see, but I think it's become run-of-the-mill stuff now."
Asked who came to mind as a player who could bat the "other" way to damaging effect, Morgan nominated England's strutting Kevin Pietersen in a flash.
"He hits the ball further than any lefthander I know. He's unbelievable, hits it for miles [as a lefthander]."
Morgan might not match Pietersen's "other way" proficiency, but he is England's key middle-order figure in both one-day versions, as adept at putting the finishing touches to an innings as anyone going around the game.
The Dublin-born lefthander averages 36.9 from 32 T20 internationals - strike rate 132 - not to mention 39.69 from 91 ODIs, and he showed his talents with two classy demonstrations against the New Zealand XI in Whangarei this week.
He hit 48 off 32 balls, then 51 from just 28, sharing two rapid stands with England's fast-rising one-day talent, Jos Buttler.
The two seemed to bounce off each other well, and Morgan is clearly a fan of the younger Somerset man.
"He is quite relaxed and we got along really well, which helps."
Morgan switched from Ireland to England in May 2009 and has established himself as the batsman to close innings out.
Morgan has few peers right now in that aspect, but if there's a black spot hovering over his cricket it is the losing of his test squad spot.
He had a decent run from May 2010 until last February, 16 tests, which produced two centuries and an average of 30.43. He managed just 83 in his last seven innings and lost his place in the test setup for this tour.
India, on England's last trip in December, didn't go as he'd planned.
"I put a lot of pressure on myself which I don't normally do. It was my first tour of India but with the experience I've had [in the Indian Premier League] I should have played better."
He knows there are no short cuts back - "it's the same old story; get runs and you get closer to the team".
There's plenty of competition too, with young Joe Root making the most of his debut in Nagpur, with 73, and Jonny Bairstow for starters.
"Test batting spots don't come up very often so when they do ... you need to be next in line."
For now, though, this tour is all about the game at which Morgan is at the front of the queue.