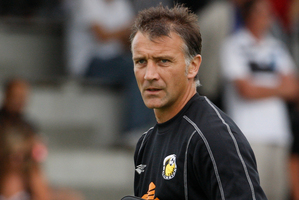 Plenty of action at both ends of the table mark tomorrow's round 12 action as one of the most interesting of the ASB Premiership season.
In a rare weekend of no Auckland play as Auckland City and Waitakere United head south, the bottom-of-the-table dogfight at Hamilton's Porritt Stadium captures northern attention.
Separated by just three points, Waikato FC and YoungHeart Manawatu lock horns in a classic wooden spoon battle.
Waikato, with Mark Cossey at the helm after Declan Edge's dramatic departure, beat Stu Jacobs' Manawatu 3-2 away in December. Apart from a 6-1 romp away to Otago in their next outing, it's the only time Waikato have scored more than a goal in a game.
What's more, in better than half their 11 games Waikato have failed to score. Manawatu have been worse, scoring three in their first-round away win to Otago and two in losing to Hawkes Bay (4-2). In three games they have scored a solitary goal and have had five without a goal.
Defensively, again there is little between the two teams. Waikato have conceded 37 and Manawatu 40 yet, at times, they have showed some hopeful signs.
Against runaway leaders Waitakere United, Waikato went away 1-0 losers with the only goal a controversial 65th minute David Mulligan penalty after a hard hand ball call against Rory Turner.
Manawatu didn't fare as well at Fred Taylor Park, going down 4-0 to Waitakere but even in that game there were glimpses of something better.
Waitakere coach Paul Marshall and his Auckland City counterpart Ramon Tribulietx head south with a bigger prize in their sights.
A win for Waitakere under the roof against Otago United in Dunedin would slam the door on other minor premiership hopefuls, while Tribulietx needs the points to put the pressure on Waitakere if they trip up down south and at the same time remain in contention for what's still a three-way scrap for the league table's all-important second place.
City will face the wrath of a fired-up Team Wellington after their highly-entertaining confrontation at Kiwitea St just four days ago. In squandering what should have been gift-wrapped scoring chances, City made it hard for themselves and in the end were fortunate to take the points in a 3-2 victory.
But the match of the day is at Bluewater Stadium where in-form Hawkes Bay United - unbeaten since the December 9 loss to Waitakere - will square off with Canterbury in a match which could have a major bearing on who joins Waitakere in the top two.
ASB Premiership
Waikato FC v YoungHeart Manawatu
Porritt Stadium
Tomorrow 2.30pm
Referee: Mirko Benischke