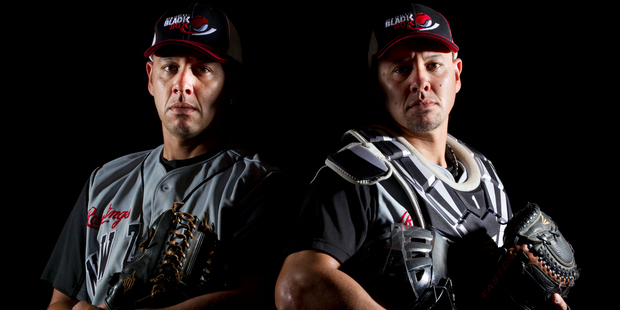 New Zealand softball pitcher Heinie Shannon had the perfect teammate to give him a leg up when his pitching arm fell apart - twin brother Patrick.
The Black Sox start a nine-day camp in Auckland today as preparation for next month's world championships at Rosedale Park in Albany steps up. The 37-year-old Shannons are among the players looking to reclaim the title lost in a shock defeat to Australia in 2009.
It's a miracle of sorts that Heinie Shannon can take his place in Eddie Kohlhase's squad. His left arm "exploded" during the interprovincial championships in the Hutt Valley a year ago, when a tendon ruptured and muscles were ripped around the elbow.
Auckland were reliant on Heinie's pitching and in a superhuman effort, he completed the game against Canterbury plus two more the next day as Auckland won the title. The pain was so great that, towel over head, he cried between innings.
Heinie also kept pitching out the season for his Waitakere Bears club before - to retain a shot of playing in the world championships - he turned down surgery, accepted an enforced two-month break, then concentrated on a rehabilitation programme.
Patrick, the New Zealand catcher, was there all the way, helping drive his brother through the pain barrier on the diamond, then ensuring he stuck to his recovery orders.
"I told him to have a big glass of harden up," Patrick says, recalling when Heinie broke down at the provincial tournament.
"The rest of the world might not be following softball and people can say if Auckland lose it doesn't matter, but it matters to us. We were not giving it up.
"He told me he could do it and we were not going to stop. But it was a time bomb - we did everything possible to keep his number of pitches down."
Heinie says it felt as though a knife was being plunged into his left arm, and the injury took away his noted weapon, the rise ball.
Other top pitchers were amazed that he not only continued, but won the tournament relying on his B game.
The A game is back however, albeit with some some action adjustments. Patrick, the Bears coach, made sure Heinie rested the arm when he was supposed to and followed orders to a T.
"I couldn't even lift the arm when it first happened," says Heinie.
"I thought 'that's it, no world championships, thanks for coming'. He [Patrick] played a big part in getting me through. He kept me moving forward, kept pushing me on."
His recovery means the outstanding Shannon double act could be at the heart of New Zealand's bid for the title. The twins, whose uncle Mike Forsyth is one of Auckland softball's most famous sons, were brought up in West Auckland where they spent hour-upon-hour as a little pitcher-catcher backyard act. As a left hander, Heinie was not catcher material, so the labour division was always clear. Their young careers blossomed, inspired by a softball heyday when Forsyth and Kohlhase's Marist were their star-studded favourites.
Patrick, playing as a designated hitter, nailed two hits including a home run as New Zealand beat Canada in the 2004 final in Christchurch. (Heinie played for Samoa that year). But the 2009 tournament ended in disappointment, something that Heinie - the starting pitcher in the final - says hurts. "It's like having a rock in your back," says Heinie, a panelbeater, who comes across as the quieter of the two.
He also smokes cigarettes, and Patrick doesn't.
"Pitchers have a lot of stress," explains Patrick, a cellar hand at his in-laws' winery close to where the boys were brought up.
They'll be hoping it's champagne and cigar time next month after the world champs.