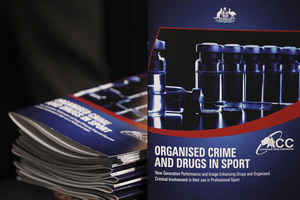 Australia will provide any information required by the New Zealand Government, in the wake of the damning sports doping report released across the Tasman.
Prime Minister John Key will discuss the report on an informal basis with Australian Prime Minister Julia Gillard, who arrived in Queenstown tonight.
"From New Zealand's point of view we're not aware of any sporting body or individual person that is implicated apropos the finding for the Australian authorities,'' Mr Key said.
"But we have asked the three New Zealand sporting bodies to follow up to find out whether there is more work that needs to be done for us to make our own assessment to see if there is any implication for New Zealand.
"Obviously we take it very seriously.''
The Australian Sports Minister has been in touch with the New Zealand Sport Minister Murray McCully.
"We'll see how things play out. It's way too early to make any sort of assessment. We've got no particular reason to believe there are issues but obviously we play Australasian type sporting events, and therefore we cant rule it out.''
Mr Key believed the integrity of sport was very important to the New Zealand public.
"If [the public] believed that our sports people were taking illegal substances or they believed there was match fixing taking place, they would be shocked, stunned and extremely disappointed, and we would take that very seriously.''
Ms Gillard told reporters that she found this week's report "pretty sickening'' and she had been shocked by it.
"We are people who go and sit at grounds or watch sport on TV and marvel at amazing sporting prowess. We cheer on the deeds; and the sense that anything we've seen has actually been fuelled by a banned substance I think would be pretty sickening for sports fans. It's pretty sickening for me.''
Ms Gillard said it was for the Crime Commission and anti-doping agency to work through.
"Prime Minister Key can certainly get all of the information he wants, and if there is any assistance Australia can provide, it will provide it.''
- APNZ