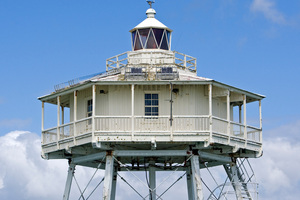 Richard Hills cannot wait to take on the Bean Rock Lighthouse Swim in Auckland again next Saturday.
The 32-year-old, who works as a channel analyst for Lion, has special memories of the 2012 event that he won by over three minutes in 44:07 from women's champion Natalie Woodgate (47:12).
Hills was a competitive swimmer throughout his school years, played rugby at 1st XV and club level and moved into triathlons after finishing university.
He has gone on to complete four NZ Ironmans over the years and has now turned to long-distance running, where he'll run his first ultra-marathon 100km race in March, and ocean swimming.
Next weekend's event involves swimming out to and around Bean Rock and back to Mission Bay.
What makes the Bean Rock Lighthouse Swim special?
The challenge of swimming out towards a well-known landmark in Auckland, and I always enjoy starting races at high tide at Mission Bay.
What did it mean for you to win this event in 2012?
It was the first time I had won an ocean swim race overall, it felt great to win and be first around Bean Rock.
What advice do you offer to newcomers taking on the 3.1km swim?
Enjoy the swim and find your own space so you don't get knocked around by other swimmers. It's not about the beating other swimmers but feeling comfortable and confident while in the water, especially if you are not confident at the start when everyone takes off as a bunch as it can be intimidating.
Navigation is often a key to ensuring swimmers take the shortest route - what are some tips for this?
Before you start during the warmup or on the shoreline look out for landmarks that can assist with where you are heading where the markers are. Also, I tend to ensure that every 10 to 20 strokes or so that I am looking ahead to make sure I am on the correct path.
What is the atmosphere like among the athletes who have swum this event?
Last year's atmosphere was really positive. The swimmers who completed the event were really happy. Ocean swimmers, in general, are always easy to approach and willing to talk about the swim.
Lighthouse swim
What: Bean Rock Lighthouse Swim
When: Saturday, February 16
Where: Mission Bay, Auckland
Event options:
Full 3.1km lighthouse swim
Half 1.5km half lighthouse swim
For more information visit: www.beanrockswim.co.nz