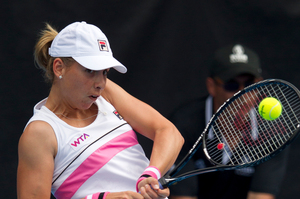 In the wake of Marina Erakovic's freak accident, when she slipped and fell at the team hotel and disclocated her thumb, APNZ looks of five other bizarre injuries sustained by sportmen.
1986 - New Zealand opening batsman Trevor Franklin was mown down by a motorised luggage trolley at London's Gatwick airport, suffering multiple fractures in his left leg. Franklin was out of cricket for 18 months and, when he returned, was never again able to run at full speed.
2002 - Spanish goalkeeper Sergio Canizares missed the entire 2002 World Cup after a shaving accident. A razorblade wasn't the guilty party, though. Canizares dropped and shattered a bottle of aftershave in his hotel sink, causing a piece of glass to fall on his foot and sever a tendon in his big toe.
2007 - Kiwi league player David Kidwell was ruled out for almost an entire season after a play date with his two-year-old daughter went horribly wrong. Kidwell tripped over daughter Zali at a family barbecue, falling awkwardly and snapping the medial and cruciate ligaments in his left knee.
2010 - Florida Marlins outfielder Chris Coghlan joined a long list of athletes to get too carried away while celebrating. Coghlan tore the meniscus in his left knee and required surgery after delivering a shaving cream pie to the face of teammate Wes Helms, who had just hit the winning run.
2012 - Blues wing George Moala added to a season to forget for the franchise, being ruled out for the season after roughhousing with his younger brother. Moala cut a tendon in his hand on a plane of glass while playing indoors with his brother and was left needing surgery.
- APNZ