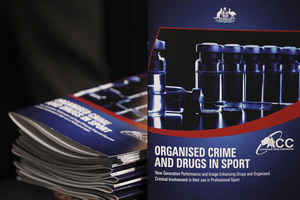 The head of New Zealand's Olympic team has dismissed suggestions of a doping problem here after a year-long investigation in Australia uncovered evidence the practice was rife in professional sports across the Tasman.
An Australian Crime Commission report, released yesterday, found evidence of widespread doping within professional sports and links to organised crime groups.
But New Zealand Olympic team Chef de Mission Rob Waddell told Radio New Zealand this morning he was not aware of similar problems here.
"I can absolutely say I've heard nothing or seen anything like that which would even remotely suggest that there's any sort of systematic doping programme. I'm very confident about that.
"There's always the chance that there might be the odd person doing the odd thing, but as far as something of that magnitude and scale, I'm completely confident that there's nothing like that."
Waddell, a yachtsman and Olympic gold medal-winning rower, said testing regimes varied between professional sports and the Olympics.
He was not sure how often professional sportspeople were tested across each sport.
"However, in Olympic it's brutal - you get tested all the time everywhere, wherever you go. And every competition, if you win, you're up for something. So as far as Olympic sports goes, the drug testing is really strong and very regular, and it happens anywhere, anytime."
Waddell told Radio NZ there was a potential for mistakes where sports supplements were involved.
"What you're hearing about in Australia sounds like a systematic doping programme on a major scale and some of their professional sports. That's quite different I think to supplements that are out there, where an athlete can trip up by taking the wrong thing."
Waddell strongly advised athletes to be "almost paranoid about what goes down your throat".
"You've got to be so careful because there are supplements out there that you might be able to buy off the shelf but there's a chance that they could trip you up."
Waddell said in the United States, there were some sports where doping had been "swept under the carpet" for a long time, and that could be the case in Australia to a certain extent.
But he said he never had an inkling that was happening in Australia at the Olympic level.
Breakers general manager Richard Clarke said he had no concerns about his players and the only supplements they take are multi-vitamins and protein powders.
"I would have a lot of confidence in our guys,'' Clarks said. "We will have a chat with them about what is going on and what they think about it rather than laying down too many laws. We have a lot of trust in the people we have here and our medical team is fantastic. Their integrity is huge. We are certainly not injecting players with anything.
"I would be very surprised if the NBL was one of the leagues that is implicated in what is coming out of Australia.''
Wellington Phoenix general manager David Dome said club officials would meet the players in the next couple of days to discuss the findings and the players' responsibilities but was confident there was nothing untoward going on at the club or in the A-League.
"I am reasonably confident it's not happening in the A-League,'' Dome said. "The Australian Crime Commission identified that football was not one of those codes that is being investigated in any depth. We are confident there's no issue, especially with us but football in general.''
Dome also didn't think his players had been approached by organised criminals.
"I would be surprised if there was anything like that in our club. We certainly haven't seen anything like that in the past and have had no indications the players have been approached by any organised crime unit to participate in any activity.''
Netball Australia, in conjunction with the ANZ Championship transtasman competition, said in a statement they were not immune and needed to remain vigilant in the fight against drugs, match fixing and links to organised crime.
They also confirmed that "no athlete, team, or high performance staff member is implicated in the Australian Crime Commission's investigations''.
The New Zealand Olympic Committee said in a statement that New Zealand sport has an international reputation for integrity and ethics and the vast majority of New Zealand athletes compete cleanly.
But they were concerned about the reports of systematic cheating in a country with close sporting ties to New Zealand and called for increased vigilance and awareness.
"The organisation will now take steps to work with lead sporting and anti-doping bodies in New Zealand to assess the implications of the Australian report and take any additional steps to ensure the protection of athletes and prevention of cheating,'' the statement said.
"The New Zealand Olympic Committee will also continue to coordinate its efforts with Drug Free Sport New Zealand in calling for increasingly targeted and evidence-based anti-doping measures through the review of the World Anti-Doping Agency code currently underway.''
World Anti-Doping Agency (WADA) president John Fahey said in a statement he wasn't surprised to learn of the contents of the Australian Crime Commission's (ACC) report and called for a global organisation dedicated to fighting drugs and corruption in sport.
"The report from the Australian Crime Commission details yet another blow to the integrity and values of sport and highlights a number of serious concerns WADA has been communicating for the past few years,'' Fahey said.
"WADA takes no satisfaction from reading such a report, but nor are we surprised at its content. Doping has cast a shadow over many sports and nations in the last few decades, and the ACC report shows Australian sport and Australian society have also been seriously affected.
"Unfortunately, this is another example of what can happen if there is insufficient recognition of the prevalence and dangers of doping, and when there continues to be a lack of appropriate resources dedicated to fighting it.
"For the last few years, WADA has been alerting sport and governments as to the engagement of the criminal underworld in the supply and trafficking of performance enhancing substances, as is clearly evident from the ACC report.
"WADA does not have the jurisdiction or the resources to deal with the underworld's growing influence on sport, which also involves corruption, bribery and illegal gambling, and this report offers further proof of the need for a global organisation dedicated to fighting this threat.
"As the ACC report shows, science and analysis alone will not eradicate doping in sport - there needs to be greater focus on intelligence gathering and investigations, and collaboration between government authorities across the world.
"This was clear when the United States Anti-Doping Agency last year brought charges against Lance Armstrong, and it has been highlighted again in the ACC report.''
- APNZ