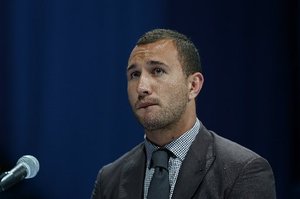 He is, proudly, so he says, New Zealand's Public Enemy No 1 but Quade Cooper looks nervous before his professional fight debut and his opponent knows it.
The Tokoroa-born Wallabies player with a penchant for taking cheap shots at All Blacks captain Richie McCaw is in a cruiserweight match-up against a fighter by the name of Barry Dunnett.
Dunnett is an insurance agent and is taking leave so he can fight Cooper in tonight's Williams v Botha undercard at the Brisbane Entertainment Centre.
Physically, Cooper doesn't appear to have much to worry about. He is extremely athletic and has apparently shown some skill in the ring.
Yesterday he played the game in the face-off against his opponent but his voice betrayed his nerves.
"I'm starting to get a little bit nervous now, it's getting closer to the day.
The build-up's been great, it's been a whole new experience and I've learned a whole lot," he said.
Dunnett isn't entirely new to the fight game, but he might as well be. He fought two Muay Thai bouts in 2010, winning one and losing one. He is shorter than Cooper and slightly heavier at 88.6kg (Cooper weighs 87.1kg).
As a fighter he looks like ... an insurance agent.
"He's got a bit of reach and height, but it's nothing I'm not used to," Dunnett said, before putting the needle in. "I won't be going back to a $200,000 rugby union contract at the end of the day ... He doesn't strike me as being an overly confident person. He didn't even show up at the weigh-in on time, so I'm ready to go."
The simmering tension between the pair began a day earlier at the official press conference when Dunnett said of Cooper's technique: "There's a lot of faults there. He's fighting for the next chapter in his biography, for sponsors, but I'm fighting for everything.
"He's got a few followers but he's got a lot of haters as well. I've got a lot of people behind me."
Cooper said he didn't want to get involved in any slanging match, but then couldn't quite help himself.
"I don't want to embarrass someone in front of a lot of people because this is the first time he's had a lot of people interested in what he's doing."
Dunnett played up Cooper's inexperience, saying: "It is lonely in there [the ring]. I don't know if he knows that yet. You can't hear your corner, it is just thump, thump, thump. It is very different."
Cooper, a controversial figure now managed by Khoder Nasser, will play for the Reds in the Super Rugby competition this season but has a strained relationship with Wallabies coach Robbie Deans.
But he seems happy to cash in on his notoriety, which reached a peak during the Rugby World Cup in New Zealand. Tomorrow night's fight card has been titled: Sonny Bill Williams v Francois Botha... with Quade Cooper.
- APNZ