Unorthodox media kick-off from Mundine is enhanced by dramatics of White Buffalo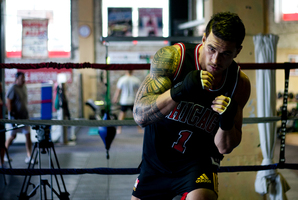 Boxing can be a chaotic affair and so it proved once again at the Brisbane Events Centre, the venue for tonight's fight between Sonny Bill Williams and Francois Botha.
Both boxers turned up more or less on time for yesterday's weigh-in before a big media contingent, but that's where the script ended - and it was Botha, the self-styled "White Buffalo", who provided most of the entertainment.
Proceedings got off to an unorthodox start when Anthony Mundine gave an all-in interview to the media right when the weigh-in was about to start. Among the topics were his IBF middleweight loss to Daniel Geale in Sydney last week, how he thought his mate Quade Cooper would go in his first professional fight (he is on Williams' undercard), and the big topics currently gripping Australian sport - performance-enhancing drugs and match-fixing.
Answers in brief were: robbed, well ("he shows a bit of 'flash' in the gym, a bit of style"), never taken drugs and never seen match-fixing in league or boxing.
Adding to his surprise appearance was the fact that he was supposed to be in a "feud" with his former manager Khoder Nasser, who also looks after Williams. It seems there has been a reconciliation.
Just as he was tapering off, in walked South African Botha, looking more like a pro wrestler than a boxer, dressed as he was in red bandanna, dark sunglasses, white T-shirt and blue trackpants.
"No more funeral business," he said as he walked in with his entourage. "I don't want any more of that funeral business like yesterday."
He was presumably referring to Wednesday's press conference. Keen to keep the mood upbeat, he quickly added: "My mama said to knock him out, what must I do?"
After walking around the room a bit things went flat in the absence of Williams, before Botha burst into action again, saying: "Little Sonny Boy, he's getting a little scared and isn't showing up for the weigh-in."
He amused himself further by taking over the Fox Sports man's microphone and interviewing himself.
When former All Black Williams arrived almost 10 minutes after the scheduled start, both boxers grinned and shook hands. Botha has been talking himself up ahead of this fight for the vacant WBA international heavyweight title - at the expense of Williams - but if yesterday is anything to go by, both men respect each other.
"The showman's come out in him and he's talking it up but hopefully I can earn his respect in the ring. It's a privilege to fight him but I won't be asking for his autograph in the ring, that's for sure," Williams said.
"Just looking at him up close, he's a hard head and it will be tough to put him on the canvas. I'll be looking to go the distance ... he's got other plans but I've just got to stay focused and nimble and stick to my plan."
As for the mind games, Williams said: "I've been in professional sport for 10 years. I know how that works."
The Sydney Roosters recruit would look in good nick after eating only hamburgers for a month, so there was little surprise to see him tip the scales in excellent shape.
Botha looked compact and powerful but was carrying weight around his stomach.
He said the delay in the fight - it was scheduled for November but put back due to Williams' chest injury suffered while playing rugby in Japan - had worked in his favour.
"He [Williams] is a super athlete, I respect him, but come the ring of the bell there's no love lost."
This is easily the biggest fight of Williams' short career - for Botha, less so. The man has faced bigger challenges against the likes of Mike Tyson, Evander Holyfield and Lennox Lewis in his 60-fight career but there is no doubt he is reaching the twilight of his days in the ring.
Williams' manager Nasser was proud of the fact that the fight will be shown live in three countries - New Zealand, Australia and South Africa. "That's unheard for someone with a record of five professional fights," he said.
Williams said again he would "probably" give up boxing if he lost.
If Botha loses, the coverage and publicity could lead to a new career - he would make a great master of ceremonies, or dare we say it, children's entertainer.

Sonny Bill Williams
Age: 27
Weight: 107kg
Height: 191cm
Record: Won 5, lost 0, drawn 0
Francois Botha
Age: 44
Weight: 115.25kg
Height: 188cm
Record: Won 48, lost 8, drawn 3
The fight
WBA International Heavyweight title
Brisbane Entertainment Centre
Card starts at 8pm
- APNZ