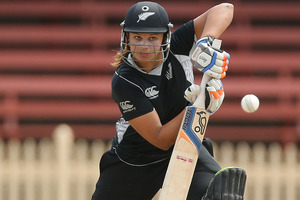 The New Zealand women's cricket side are approaching the upcoming Super Six stage of the women's World Cup as virtually knockout, which is just as well because they can't afford any slip-ups if they are to advance to the final.
The White Ferns qualified second from their group and carry over two points into the Super Sixes phase.
Australia top the standings with four points and will be favourites to secure one spot in the final but four of the six teams carry over two points meaning competition for the other place in the final will be tight. New Zealand start in third with a run-rate (+0.974) inferior only to the West Indies (+1.608) but winning cricket will be their primary focus.
The White Ferns meet Sri Lanka on Friday in the first of the Super Six matches and will also take on the West Indies on Monday and defending champions England next Wednesday. The top two teams advance to the final in Mumbai on February 17.
Sri Lanka have been inconsistent so far in the tournament. They upset England by one wicket in their first match but were then rolled by the West Indies by 209 runs before cruising past hosts India - they didn't carry any points over from that match because India didn't progress.
Friday's game is one New Zealand need to win and captain and opening batsman Suzie Bates said they were aware they couldn't afford to make any slip-ups as the tournament stepped up in intensity. They will also need to bounce back from their heavy defeat to Australia.
"It's exciting and there are going to be lots of challenges ahead,'' Bates said. "It's almost a knockout phase from now on and we can't afford to drop a match. We have the ability to beat all of those sides so we are looking forward to the challenge.''
Bates has had a good tournament so far, putting together scores of 73, 65 not out and a terrific 102 in a losing effort against Australia. The 25-year-old has now played 52 one-day internationals since her debut in 2006 and scored 1642 runs at an average of 36.48 with a high score of 168 against Pakistan in 2009. She has also chipped in with 37 wickets with her medium pacers at an average of 30.45.
The White Ferns will need more out of their batting lineup throughout the rest of the competition and they were in deep trouble against Australia when reduced to 39 for four before Bates and Katie Perkins (41) steadied the ship. They will also need to get used to conditions in Mumbai where the rest of their matches are after playing their first three games in Cuttack.
"We have had some real positives from our pool matches and we just need to carry on doing the work with the bat,'' Bates said. "I think if we are honest, we have lost wickets early and we need to learn... to be really content with scoring when the bowlers give us width.
"It would also be nice to have a few tosses go our way in the next few games because we have been unfortunate with the early starts and been put into bat. It's been tough early on.''
- APNZ