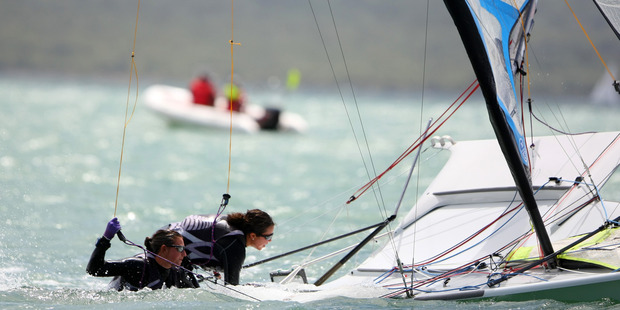 Strong winds again buffeted the sailors in the Oceanbridge Sail Auckland event yesterday, Olympic gold medallists Jo Aleh and Polly Powrie, the only females entered in the 470 fleet, comfortably winning their class.
Winds gusted up to 30 knots, but all 15 fleets sailed - unlike Monday when many races were cancelled.
Aleh and Powrie won the 470 class by 12 points. Their worst result was second over the regatta. Paul Snow Hansen, who was fifth in the men's 470 at London last year, finished the regatta in second overall with stand-in crew Chris Dawson. The pair finished tied on points with James Turner and Carl Evans.
The 49er men's division was won by New Zealand Olympians Peter Burling and Blair Tuke, while second place went to their New Zealand sailing team training partners Marcus Hansen and Josh Porebski, who beat Burling and Tuke only once.
Markus Somerville and Jack Simpson in the 29er too had a near perfect regatta; a second place finish in one race yesterday became the only one of the event they didn't win.
Nicholas Goyard had a similar result in the RS:X 8.5, although his only loss was on the first day of racing.
The only three competitors to win every race of the regatta were Olympian JP Tobin in the RS:X 9.5, and Paralympic sailors Paul Francis in the 2.4mR fleet and Australian Genevieve Wickham with NZ paralympic coach Charlie Baillie Strong in the SKUD 18.
Australian sailors also took home the trophies from both the Laser class (Ash Brunning) and Access Liberty (Russell Phillips).
The Laser Radial fleet was convincingly won by Andrew McKenzie, who excelled as the breeze picked up on the last two days of racing when he won every race.
The 420 division was won by Taylor Balogh and Samuel Lee.
On the final day of Kiteboard racing, Tauranga's Torrin Bright stretched his lead on the fleet of 20 riders with six race wins in a row.
- APNZ