Colin Munro the only high point as tourists warm up for first international with 46-run win.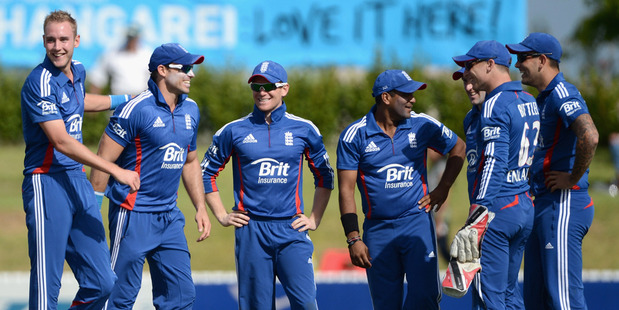 England cleared their throat for more important occasions ahead with a comfortable 46-run win over a New Zealand XI at Cobham Oval yesterday.
Having rattled up 186 for three, New Zealand's chase was fading even before they lost four wickets in successive balls to slump from 136 for five to 136 for nine, as captain Stuart Broad nabbed a hat-trick, to follow seamer Jade Dernbach removing top scorer Colin Munro's leg stump with the final delivery of the 18th over.
The hat-trick was completed when Matt Henry touched a catch to the day's most vibrant performer, wicketkeeper Jos Buttler.
Auckland lefthander Munro's bracing 55 off 32 balls - including a couple of reverse sweeps which produced a six and a four off spinner James Tredwell - was the only high point of New Zealand's innings, which was in trouble early after England had got away in the final few overs.
Put that down to young Somerset player Buttler whose first half century for England was a slashing unbeaten 57 off just 24 balls.
Buttler arrived after Luke Wright and Eion Morgan had got into gear and put on 61 in 37 balls for the third wicket.
Before then, the New Zealand bowlers had kept a reasonable check on the situation. However the hosts learned about the need to be bang on the job all day against international opposition.
Wright, something of a global 20-over hired gun, and the quick-footed Morgan are old hands at this; Buttler, 22, and with 18 T20 internationals behind him, is making his way in the side, and going about it in the right way.
Perhaps emboldened by the news he has won the wicketkeeping job in a two-horse contest with Jonny Bairstow for the three T20s against New Zealand which kick off the ANZ international series, Buttler's was a stunning hand.
He stood tall, hit cleanly and straight and showed an eye for opportunities. In the final over, with the onside boundary protected, Buttler twice despatched Michael Bates over the offside cordon parked on the circle.
His stand with Morgan produced 77 off 37 balls, 70 coming from the last five overs.
"We'd built a really good platform and it gave me a chance to go out and play my natural game with a lot of freedom and try to score as quickly as I could," Buttler said.
Buttler certainly made his presence felt. New Zealand should have taken note.
Chris Woakes, fresh from a stint with Wellington, did the early damage with the ball, although Tom Latham's run out, after a mid-pitch mixup with Neil Broom, at a time he was travelling well, was a bonus for the tourists.
The teams meet again today, a chance to see if yesterday's lessons have been absorbed by the hosts.
Munro's half century a boost for Eden Park clash
Colin Munro left South Africa last month with his spirits up and his bristling half-century against England yesterday won't have hurt ahead of the T20 series starting on Saturday.
Having made a run-a-ball 57 in the final ODI against South Africa at Potchefstroom last month to arrive back home in good heart, he repeated that with a rapid 55 for the New Zealand XI in a losing cause at Cobham Oval. However he got a good look at the England bowlers and that won't hurt ahead of the start of the ANZ international series this weekend at Eden Park.
"They've got a little bit of pace in their attack. The wicket didn't really suit them but they bowled with some good variation," Munro said.
"But we've got to be a bit smarter as a batting group."
New Zealand lost wickets early in their chase for 187 and the target became too big in the closing overs.
"When you're playing international teams you only need to be a little bit out," New Zealand XI captain Andrew Ellis said of a bowling effort which began promisingly before falling away under a late onslaught.
"They're a good side, they kept the foot on the throat, kept pushing us a little further behind, then it became too tough at the end." Ellis suggested a bolder approach might be required today. His team includes several players getting a rare chance to test themselves against international opponents, with an eye to the future.
"But that's guys growing into international cricket and backing themselves. The more they play [international teams] the more that'll happen." And Munro is helping make Ellis' case.