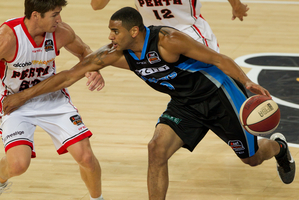 With their club-record 10-game winning streak culminating in the thumping of their nearest rivals, the question must be asked: When will the Breakers next lose?
The two-time defending champions are in irrepressible form, putting 17 points on Perth in the top-of-the-table showdown at Vector Arena to enhance their record to 18-3.
The Wildcats are responsible for two of the Breakers' losses this campaign and since they cleared that hurdle on Friday night, it is difficult to imagine the Breakers being beaten if they continue to play as well as they have in recent weeks.
Saturday night's trip to third-placed Sydney - site of the Breakers' last loss in December - will be another test but the following five games are highly winnable before the season-ending showdown in Perth.
Of course, the number of victories accrued will matter little once the play-offs begin and many see the following six weeks as a mere warm-up for the inevit-able grand final rematch against Perth.
Along with locking up top spot ahead of the Wildcats, who now trail by two games, the remainder of the regular season does have one real benefit for the Breakers - retaining their sky-high confidence before their quest for a three-peat gets serious in April.
"With the Breakers, when they play with a lot of confidence, and they're moving the ball and getting wide open shots, they're a machine," said Perth forward Shawn Redhage. "They are a tough team to beat."
Supporting that sentiment was Breakers back-up guard Corey Webster.
"Unbeatable, at this time, yep, I think so," he said. "It's a good win for us but, once you get down to the play-offs, you forget about all that. But right now, we're feeling good."
The task for coach Andrej Lemanis is ensuring that feeling is maintained now the Breakers are past the silly season and back to playing once a week.
"We've been playing great and the challenge is staying sharp," Lemanis said. "It's about being mentally sharp every time you come into the game, not letting the weeks drag and then having a let-down."
If they avoid that let-down, the rest of the Australian NBL will have a hard time halting their winning streak.
- APNZ