This weekend she is ditching the stick and pitting herself against NZ's top female sprinters.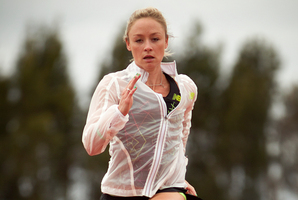 Black Sticks' star Anita Punt - known as the fastest woman in world hockey - is used to leaving defenders for dead, now she is being talked of as a strong chance of upstaging some of New Zealand's seasoned athletes this weekend.
The 25-year-old is a wildcard entry in the international track meet in Christchurch beginning today, which will feature London Olympians Nick Willis, Sarah Cowley and Lucy Van Dalen.
Punt has long been known for her blistering pace on the hockey turf, with the fleet-footed star one of New Zealand's key attacking weapons. According to her profile on the Hockey New Zealand website, Punt's times over 10m would rank her in the top eight in the men's squad. But this weekend she is ditching the stick and pitting herself against New Zealand's top female sprinters in the 100m and unconventional 300m distance, held on the grass track at Christ's College.
Punt admitted she has sometimes wondered how competitive she would be in athletics.
Late last year she was offered the chance to find out.
Her sponsors New Balance, who are also involved with this weekend's meet, convinced the diminutive striker to sign on.
But what started out as a bit of a fun training exercise over the summer has turned into a more serious endeavour.
Punt has enjoyed her initial dabblings in the track so much, she is weighing up whether to enter next month's national championships in Auckland.
"At this stage I'm just seeing how I go this weekend, but I'm seriously considering nationals," said Punt.
"Hockey is still my main focus definitely and will always come first, but I think it'll be fun just to see how far I can go with athletics."
With New Zealand light on female sprinters at the moment, Punt is considered a genuine prospect for a national title in Auckland next month.
But she will have little time to prepare for the meet - she jets off to South America in a couple of weeks for the Black Sticks' five-test series against Olympic silver medallists, Argentina.
"People tell me I could [be competitive], but I don't want to put any expectations on myself. It'll be fun just to see how well I go," she said.
A lot of Punt's enthusiasm for athletics can be put down to her partner Scott McLaren, New Zealand's second-ranked decathlete, who has been helping his girlfriend prepare for this weekend's races.
"He's been teaching me a little bit of stuff to help me run faster, which has been really good and hopefully that will help me out with my hockey as well," said Punt.
McLaren insisted his protege accompany him to a couple of track meets last month, so Punt could experience the nerves and rush of adrenalin on the startline, waiting for the starter's buzzer to sound. Her form in the warm-up events has been impressive too, with the speedster winning the 100m at a combined Athletics Whangarei and Athletics Auckland meet in a time of 12.11.
"Scott just wanted me to race against other people before I get down to Christchurch, just so I'm used to the atmosphere and know the routine," Punt explained.
"It's definitely different doing an individual sport compared to what I'm used to being part of a team."
Punt's closest competition this weekend is expected to come from Cowley, and locals Fiona Morrison and Kelsey Berryman.
Willis will headline the middle distance events, with the Beijing silver medallist to race the one mile, an historic event on the grass track sure to evoke memories of the great races in New Zealand in the 1960s, including the world mile record set by Peter Snell in Wanganui in 1962. The international track meet moved to Christ's College last year after its traditional venue, QEII Stadium, was destroyed in the February 2011 earthquake.