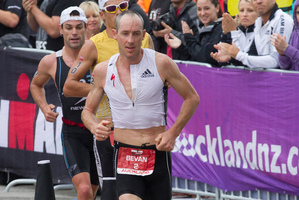 Bevan Docherty was second after Australian Christian Kemp. Photo / Greg Bowker
A half ironman is hard enough without the course being too long, but that was the case at the recent Ironman 70.3 Auckland, with the running leg an embarrassing 1.4km over the required distance.
A half ironman, often referred to as a 70.3 race, consists of a 1.9km swim, 90.1km bike ride and 21.1km run. The Auckland run leg, however, was 22.5km.
The mistake was first suspected when runners were on the run course and confirmed when they crossed the finishing line. Athletes compete with GPS tracking devices to ensure they complete all of the course and provide accurate data.
It was the first year Ironman 70.3 Auckland was staged and it also doubled as the Asia Pacific Championships, with US$75,000 ($88,900) and qualification for the Ironman World Championships at Kona at stake. Two-time Olympic triathlon medallist Bevan Docherty was second behind Australian Christian Kemp.
Ironman Asia Pacific operations manager David Ray acknowledged it was a mistake that should not have happened and has guaranteed the course will be exact next year.
The error occurred when the official measurer, who also measured the course for last year's ITU World Triathlon grand final, failed to calculate the distance around the Hilton Hotel on Princes Wharf as runners returned for each of the two laps.
The distance was included on the outgoing laps but not the return legs - the measurer assumed the course went in front of Princes Wharf rather than around it - and the extra distance amounted to exactly 1.4km.
"It shouldn't happen, but it did," Ray said. "Everything had been officially measured to the last millimetre but there had been a miscommunication around the scope the measurer was given. He interpreted instructions wrongly. I wouldn't put the blame on him. I put it on us. Obviously our instructions to him weren't clear enough.
"It's not good. If we say it's 21.1km, it should be 21.1km. That's why we have official measurers. It's not what we wanted. Every other run we have done has been 21.1 and Auckland next year will be 21.1."
Organisers were fortunate major placings weren't decided over the final 1.4km. Ray is aware of one event where the course was about 500m out and first place came down to the final sprint.
"From that point of view, I think we were lucky," Ray said.
Kiwis Clark Ellice, who finished third, and 10-time Ironman New Zealand winner Cameron Brown, said they weren't annoyed because it was the same for everyone.
"It's just one of those things," said Brown, who has been in plenty of races that have been deliberately short to ensure fast times but rarely too long. "It was the inaugural race and you can get issues like that, especially around the Viaduct where it can get a bit tricky to get the distances right. Besides that, everything went well and I know they will sort it out for next year."
Organisers acknowledged the mistake at the official prizegiving soon after the event, which helped diffuse any major issues from athletes.
The event was otherwise a success, although a number of competitors were disgruntled about drafting regulations which they felt gave some riders an unfair advantage and eventuated in large bunches - an unusual sight in ironman racing.
The race was run under Triathlon New Zealand drafting rules, which state cyclists must keep a gap of 7m from the front of the leading bike to the back of the following bike, when the gap is usually 12m for ironman events. Ray said they are likely to revert to 12m next year.
APNZ
- APNZ