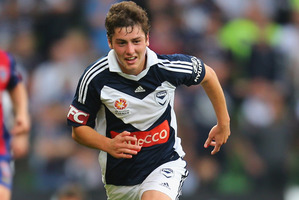 This is a very exciting time for New Zealand soccer with the rise of attacking players, led by the young man of the moment Marco Rojas.
I know from the response on my radio show that Rojas - with choir boy looks and a killer instinct in front of goal - has attracted excitement both in and outside of soccer circles for his wonderful form with the Melbourne Victory. No wonder Liverpool and Juventus are said to be interested.
While it was sad to see Ryan Nelsen's playing days end, a new chapter might be opening with Rojas the central character. I've said for some time he is the best player in the A-league. The last player of similar ability in this country was Michael McGarry - who could have forged a top career overseas if he had wanted it - while Rojas also reminds me of Arsenal's Theo Walcott.
What makes Rojas so exciting is that he can play on both sides, is blessed with two strong feet, has wonderful balance, a team ethic and, vitally, is a wide player who scores goals.
He has those special qualities that can't be coached - a vision and instinct to be in the right place at the right time. He is well managed with a strong support crew off the pitch.
What are his prospects in a top European league? He has the ability but must get physically and mentally stronger. The physical side, the rough and tumble, is far different in places like England compared to the lesser A-league. (our finest player Wynton Rufer was a magnificent athletic specimen).
I do believe that England is the place for Rojas - there would be no language problems and he will have other rising All Whites stars nearby. If it was to be a premier league club, he should choose one with a strong youth policy and a manager who will play young, untried footballers. This, for instance, would rule out Manchester City or Chelsea, whereas Liverpool and Arsenal do take risks.
My preference would be a progressive, ambitious championship club such as Brighton or Leicester where he would get regular action. Remember that even Rufer learnt his trade in the lower-rated Swiss league before moving to the German Bundesliga. Chris Wood is a prime example of this philosophy - he hardly got a kick in anger for West Bromwich Albion, but flourished with Millwall and now Leicester.
This is a watershed for the All Whites, with an abundance of attacking options. Rojas, Wood, Kosta Barbarouses, Shane Smeltz (regarded by most as the best striker in the A-league) Jeremy Brockie and Michael McGlinchey. Smeltz may have to fight for his All Whites place for the first time.
People say "if you don't concede goals you don't lose" but I love the Manchester United philosophy of believing you can always score more than the opposition. We've never had this wealth of attackers before - all we've got to do is change our thinking.
•What a day for soccer in Auckland, with the big local derby between Auckland City and Waitakere preceding the Wellington Phoenix's clash against Perth Glory at Eden Park.
Waitakere coach Paul Marshall's return to Kiwitea St, where he is fondly remembered for his success, adds a special element to the clash. I'm picking an Auckland City victory though, partly due to my loyalties, but also because they just have to win. A star of the show will be the venue itself - the intimate ground creates a fantastic atmosphere.