History-making Coast-to-Coasters share their tips on tackling Longest Day race.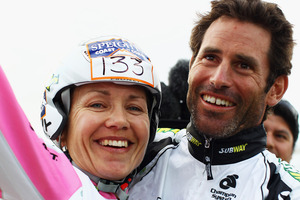 Defending champions Richard and Elina Ussher will take centre stage on the Kumara Beach start line next Saturday when the 2013 Speight's Coast to Coast begins at 7am.
The multisport couple made history last year when they became the first married couple to win the Longest Day race in the same year.
The Usshers are focused on making history once again and are race favourites despite Richard having a less than ideal buildup.
We caught up with them to see what makes the Coast to Coast so irresistible to take on.
What do you love about the Coast to Coast?
Richard: The course - especially the mountain run and paddle, the competition and the wider community of people participating in and supporting the event.
Elina: I don't love anything about it. Oh yeah, I do love winning. To be honest with you it's a hard, long and painful day out there. However, I do like the challenge and I think that the race course is quite amazing. It's rough and tough but fascinating.
What is it like standing on Kumara Beach knowing what is ahead?
Richard: It is always a mix of nerves and apprehension. It doesn't matter how many races you've done, it is still a big day out and the first run and ride especially can be quite chaotic. It's always nice once you have got through the transition to the mountain run and the field has spaced out a bit.
Elina: How am I going to manage over 12 hours of racing?! It's always a bit of a scary feeling - standing on one side of New Zealand and knowing you're about to race to the other. I can't think too much - my brain wants to save some energy, every little piece of energy that I have. Normally I talk a lot but I'm often very quiet before a big race. You have to keep calm and believe that it's going to be alright. You have this massive day ahead of you but just try to focus on the first 3km run and go for it.
What did it mean to both of you to win the men's and women's title and become the first husband and wife to do so?
Richard: Personally I was happiest for Elina to finally get the win on the full course. It was a great end to what had already been a good day out for me. It was also great as our major sponsor, Subway, had been talking up the double win for years so to finally make it a reality was very satisfying.
Elina: It was a great feeling especially as then we were both able to celebrate the victories. I was happy that Richard had a solid win again and that I finally managed to race well all the way through to Sumner Beach. It was just one of those days when all went well for both of us.
How much have you trained in the buildup to this year's event?
Richard: Due to health issues, I've pretty much had from November to January off training with just two races in November as the only physical activity. I think the past few years of hard training and racing finally caught up with me I had to ease back into things. I actually feel pretty good right now but I will be going into the event pretty light on training so I will just have see how the day pans out. The biggest motivation to return with a less than ideal preparation was to support our sponsors like Subway who make it possible for us to race but despite the small build up I'll be giving it everything to try and be first again.
Elina: I have been doing a bit less training than in the past. I have been focusing on speed and recovery a little more than before. I just wanted to try something a bit different.
What is the toughest part of this event?
Richard: For me the toughest part of the event would be the final couple of hours in the kayak; the shoulders and arms are usually complaining pretty loudly by then and you know there is still a decent bike ride ahead once you've finished.
Elina: I think that the toughest part is to keep pushing hard when your body is fatigued - especially in the kayak. You have to remember that the race is not over once you get to the Gorge Bridge ... there's still a 70km road bike ride to Sumner and often there is a decent head wind to make it a little harder for you.
What is the feeling like when you hit Sumner Beach after completing the Longest Day?
Richard: Usually the first emotion is relief. It hits you a few hundred metres from the end of the ride. It's relief that you can stop driving through the discomfort and then it's a mixture of soaking up the atmosphere of the crowd while trying not to cramp up as you run the final steps to the line.
Elina: If I feel like I've had a good day out there I feel super happy and almost not tired at all. That's the very first feeling I get. But then a little bit later you actually start realising how tired your body is and then you just want to sit down and relax.
Richard you have won it five times, Elina two times - do you have clear memories of your wins?
Richard: Each victory has definitely been special for different reasons. Probably for me the most memorable was the last duel I had with Gordon Walker in 2008. It was probably the closest I have come in any race to having the perfect day, Gordon was definitely the toughest competitor I have come across so far in the race so to claim the win ahead of him after he'd won in 2007 was hugely satisfying.
Elina: I won my first Coast to Coast when we raced a different course on the road (via Arthurs Pass rather than the Goat Pass mountain run - which is over boulders and is a very rough and technical run) due to heavy rain and flooding. It also included a 140km bike ride instead of the 15km ride and 70km paddle along the Waimakariri River. There was still a two-hour paddle but it was in the Avon River which is quite a different experience. I had a good race but it didn't feel like winning the real C2C. Last year was on the original course and it felt almost unreal to be winning. I remember how I couldn't believe that I was still leading after the paddle as I thought that somebody had overtaken me somewhere during the paddle. On the last ride I felt like I just had to go as hard as I could and it was almost difficult to control myself and to be smart and not to push too hard too soon as it's still some two hours of riding to the finish line. Anyway, I was very happy when I finally got to Sumner. I felt like I'd won something I'd been dreaming about since I moved to New Zealand in 2005.
What do you eat/drink throughout the race?
Richard: A lot of the nutrition is gels and sports drinks but I also try to eat some more "normal" food at various times, things like potatoes, creamed rice, muesli bars, bananas and a bit of Coca-Cola.
Elina: I normally drink some sports drinks and water for the river on the run. And some Coca-Cola in the transitions. I eat sports gels and bars. I also have some bananas and possible some potatoes when running down to the kayaks.
What advice do you offer to newcomers to the longest day?
Richard: Mainly to not overdo the training - arrive at the start fresh and relaxed and enjoy the day as much as possible. It is a long, hard day so the better your head space is the more successful you will probably be.
Elina: I think it's important ID to have fun and enjoy your day. It's a hard day out but it's the same for everyone. Even the top guys are having some tough times out there. Remember to eat and drink enough during the race. When you feel a bit tired or unfocused always have something to eat - it helps you to keep going.
Coast to Coast
When: February 8-9
Where: Traverse from Kumara Beach (West Coast) to Sumner Beach (East Coast) - Tasman Sea to Pacific Ocean across the Southern Alpine (243km)
Event options
Longest Day - World Multisport Championship (one day)
Teams and Individuals - (two day)
For more information visit: www.coasttocoast.co.nz
Nine steps to completing the legendary Coast to Coast
1. Join e-news of the Coast to Coast.
2. Sign up for a kayak course. If you want to do the whole event as an individual or be the team kayaker you'll need a Grade Two certificate.
3. Find a teammate. If you enter the two-person teams section, find your own team-mate (one team member does the first cycle and the kayak stage, the other the mountain run and the last cycle stage).
4. Enter the Speight's Coast to Coast. Entries open June 1 each year and are limited to 800. We'll send you an entry form in May. While anyone can enter the one-day event (Longest Day) most new entrants enter the two-day event.
5. Download the latest handbook, updated on July 1 each year.
6. Start training and enter a few local events. Once you enter we'll email out a training programme, events listing, nutrition notes and other useful stuff.
7. Find a training partner.
8. Sign up for a guided mountain run. There are only two Department of Conservation concession holders for guided mountain runs through the Mingha Deception.
9. Find a support crew. If you're an international you may be able to find an enthusiastic local to help you.
Coming up
February 5
Multisport: State Beach Series, Takapuna Beach, North Shore, Auckland. Swim 1500m, 1000m, 500m. 300m, Paddle 3000m (four board sizes) 1000m, 500m, Ski Paddle 5000m, Run 5000m, Social Walk 2500m, Junior Run 2500m
Thursday February 7
Swimming: Kohi Summer Swim Series - Race 11 Kohi Beach, Auckland. A weekly ocean swim event with four distance options each Thursday: 500m, 1000m, 1500m, 2000m
Triathlon: Stroke & Stride Mission Bay Auckland. The world's most popular swim-run event born and bred in New Zealand and happens every summer.
February 8
Adventure Racing: Speights Coast to Coast Multisport Race. February 8-9. Traverse from Kumara Beach to Sumner. Tasman Sea to Pacific Ocean across the Southern Alpine (243km)
February 9
Mountainbiking: Cateye Moonride Tui Ridge Park, Rotorua. For the first time, this will be held in summer with 24-houre, 12-hour and six-hour options.
Swimming: Surf'n'Turf Endurance Swim Pegasus Town. North Canterbury Surf'n'Turf combines with Tri Grand Prix to bring you our endurance swims, 1000m, 2000m or 4000m
Triathlon: Tri Grand Prix Pegasus Town. North Canterbury Tri Grand the ultimate test of speed vs endurance.