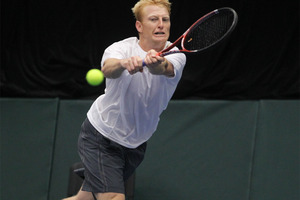 The New Zealand Davis Cup tennis team begin their quest to earn immediate promotion back to Asia/Oceania Group I with a tie against Lebanon at North Harbour tomorrow and they should have little trouble dispatching a country that has no players who currently hold a ranking.
New Zealand aren't awash with top tennis talent, with Dan King-Turner the highest ranked in the four-man team at 375, but they start as overwhelming favourites this weekend.
The tie begins in controversial circumstances, with Lebanon captain Hussein Badreddine angered at the International Tennis Federation's decision to move it from Beirut, and then Cairo, to New Zealand.
Lebanon were due to host the tie but it was moved for security reasons. They then nominated Cairo as a neutral venue but it was eventually shifted to Auckland after further security concerns.
"I think it was a really bad decision not to have the match in Lebanon and one that I can't understand," Badreddine said.
"It is quite safe now. We had another match there recently. I know there are problems in Syria, but not in Lebanon."
King-Turner will kick off the tie tomorrow when he takes on Lebanon No 2 Michael Massih. Artem Sitak, who is ranked 553rd in the world, will then take on Karim Alayli, who was delayed coming into New Zealand as a result of visa complications.
King-Turner will team up with Marcus Daniell for Saturday's doubles.
"The draw has worked out nicely for us," new New Zealand captain Alistair Hunt said. "They have nothing to lose, so I've told my players to go out and play as well as they can on the day. We want to put them away as quickly and as comfortably as possible."
Lebanon's aim is to remain in Group II and they are looking at the tie against New Zealand as preparation for ones later in the year.
"We know on paper there is a huge difference, they are favourites and they are going to win," Badreddine said. "We are not hiding that but this is serious preparation for the second tie [later this year]."
The winner of the tie will take on either Pakistan or Sri Lanka in April.
Draw for the Asia/Oceania Group II first round Davis Cup tie between New Zealand and Lebanon at Albany Tennis Park, North Harbour, starting tomorrow:
Friday (11am)
Dan King-Turner v Michael Massih
Artem Sitak v Karim Alayli
Saturday (2pm)
Dan King-Turner/Marcus Daniell v Karim Alayli/Ibrahim Abou Chahine
Sunday (11am)
Dan King-Turner v Karim Alayli
Artem Sitak v Michael Massih
- APNZ